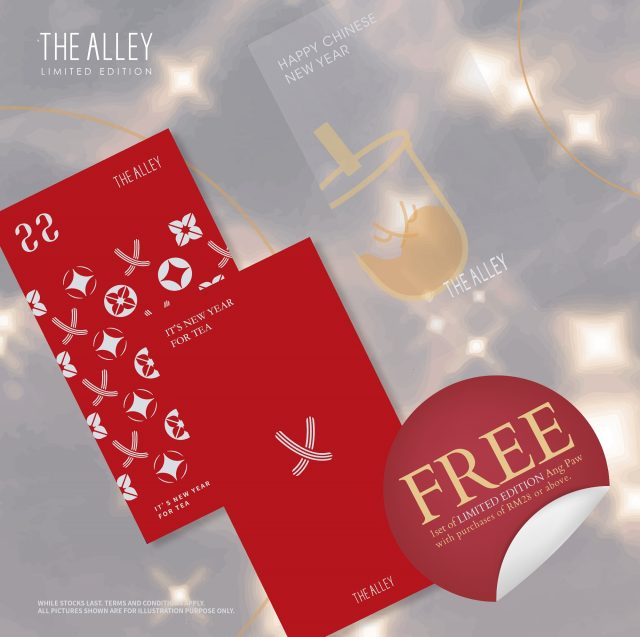 The Alley Malaysia Gifts Free Limited Edition Ang Pao Packets With A Minimum Purchase of RM28
PETALING JAYA, 11th January 2022 – Malaysians everywhere are getting ready for the joyous season of Chinese New Year that is upon us. Grandparents, parents and in-laws have started putting aside some cash for the most anticipated tradition of the younger generation, handing out ang pao packets. The Alley Malaysia has launched three limited edition ang pao packet designs that put a unique twist on this age-old tradition.
Malaysians beloved boba tea brand, The Alley is proud to announce that they are bringing back their Chinese New Year campaign of free ang pao packets with a purchase of RM28 and above starting from the 15th of January 2022. This time they are taking their limited edition red packets to the next level and giving their fans ang pao packets with a special translucent and monogram design.

"The Chinese New Year festival is a celebration that we hold very near and dear to our hearts. Last year we designed a limited edition 'Black Ang Pao' for our free ang pao campaign that was very well received by our fans. This year, we decided to top last year's free ang pao campaign with a unique translucent and monogram ang pao design. What better way to wish your loved ones a lucky and prosperous year ahead than with an ang pao packet out of the ordinary? Huat ah!" said Ng Ching Wai, Chief Executive Officer of The Alley Malaysia.

The ang pao packets come in three designs, the antlered ang pao packet, the monogram ang pao packet and the translucent ang pao packet. For those who wish to get these limited edition ang pao packets, be sure to spend a minimum of RM28 in a single receipt at any of The Alley outlets across Malaysia starting from the 15th of January 2022. You may make your purchase in-store or through online delivery (excluding delivery charges) and you will receive these snazzy ang pao packets that will spice up your Chinese New Year celebrations. 
The Alley Malaysia's 5th Anniversary Giveaway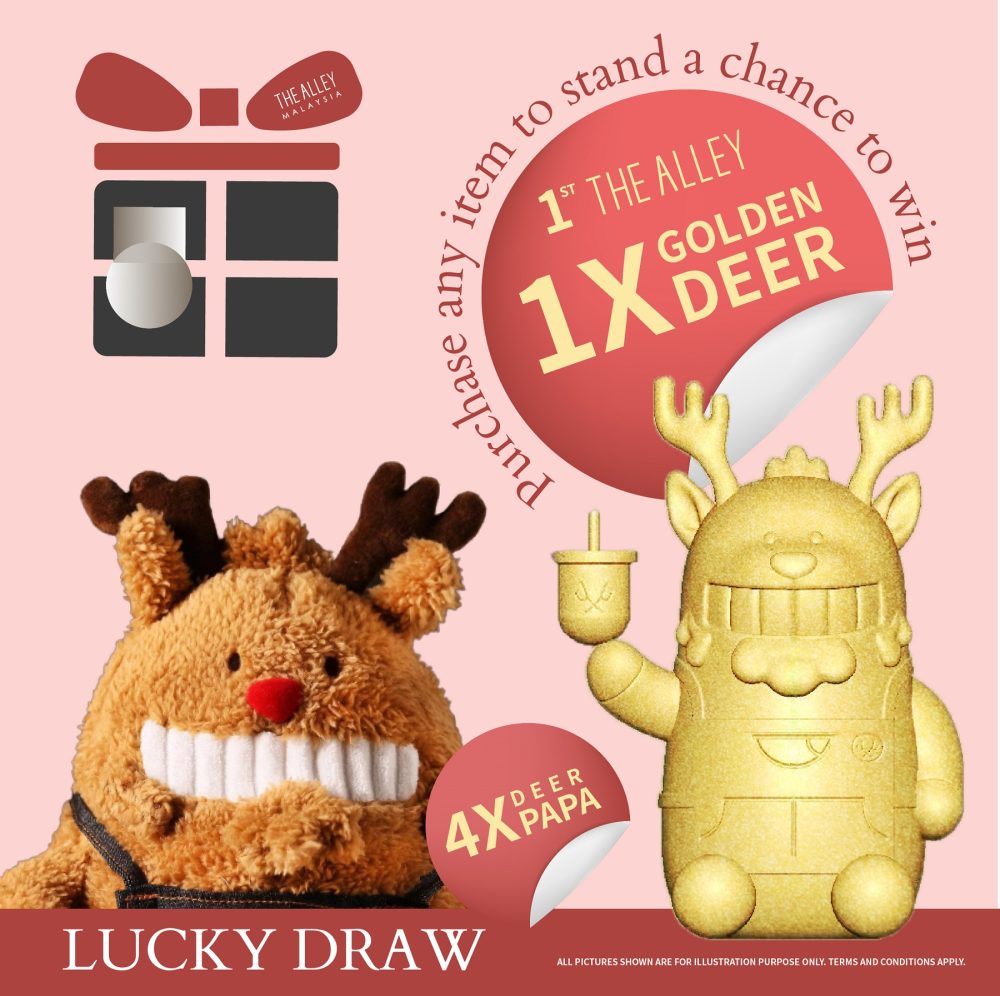 The Alley Malaysia is celebrating their 5th anniversary this year and will be holding a mascot giveaway for all The Alley fans that make a purchase at any of their outlets across Malaysia from the 16th to the 31st January 2022. Boba lovers can stand a chance to win a special golden deer mascot or the deer papa mascot. Scribble down your name and contact details on your receipt and drop it into the giveaway box on your way out and you may be one of the lucky winners. 
Scratch & Win Contest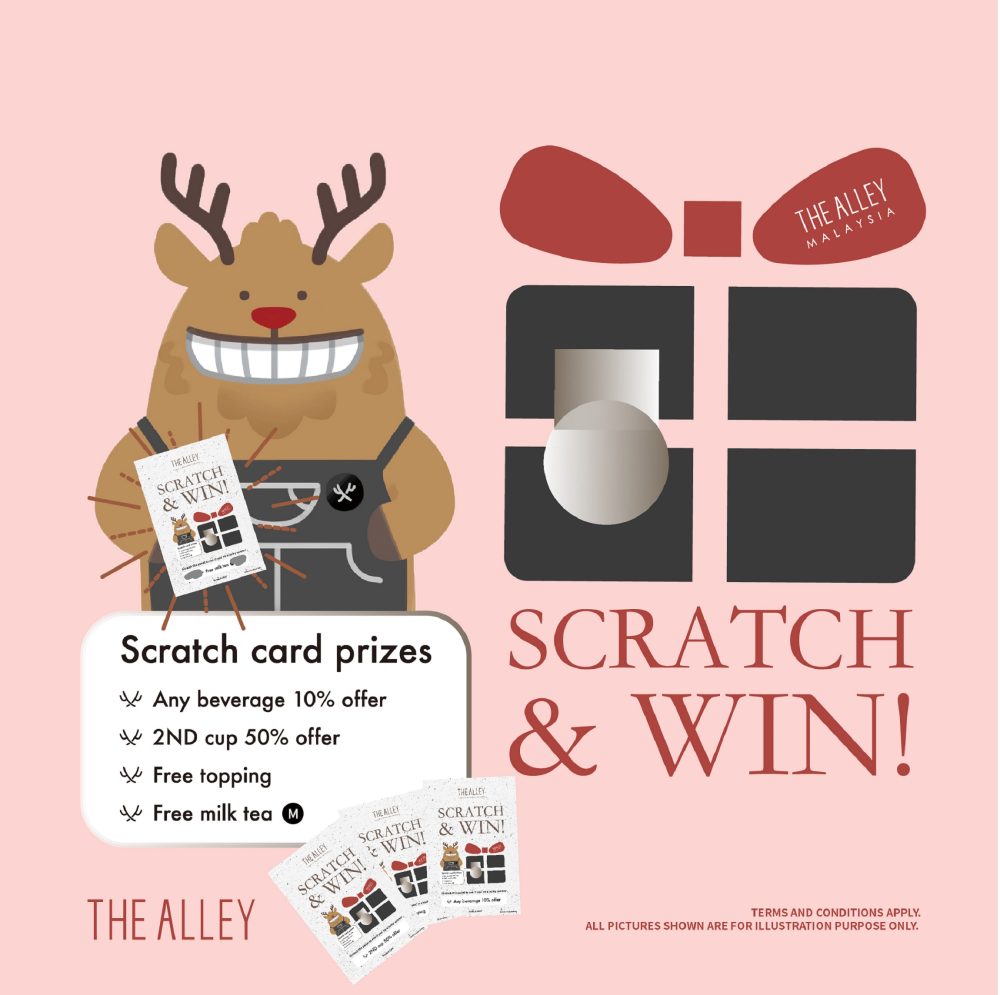 The Alley fans are in for a sweet treat with The Alley's scratch & win contest from the 20th to the 22nd of January 2022. Grab yourself a cup of your favourite The Alley beverage and you will receive a scratch and win card to win some exciting prizes. The prizes include beverage discounts, free toppings and free milk tea that you can redeem from the 1st to 15th February 2022.
Apart from that, The Alley Malaysia is glad to share with fans that they will soon be launching a brand new outlet for their boba tea fans up north in Penang. So be sure to stay tuned to The Alley Malaysia's Facebook page as well as Instagram at @thealley.my to find out more.
About The Alley Malaysia
Originating from Taiwan in 2013, The Alley is a bubble tea brand that has extended from Taiwan to Northeast & Southeast Asia, Europe, Oceania and North America. The brand has expanded rapidly across the globe with over 50 outlets in Malaysia alone.
The Alley Malaysia offers 9 different categories of beverages, which are Brown Sugar Deerioca Series, Milk Tea Series, The Alley Specialty, Original Brew Tea, Coffee Series, Latte Series Yogurt Series, Earl Grey Series & Crunchy Milk Tea Series. They take pride in their self-made sugar cane syrup, freshly handcrafted tapioca (Deerioca) and carefully selected tea leaves to ensure the quality, standard and taste of each beverage served. The Alley strives to offer sensational experiences through quality lifestyle merchandise, delectable foods and beverage innovations that not only appease taste buds but also delight the visual senses.