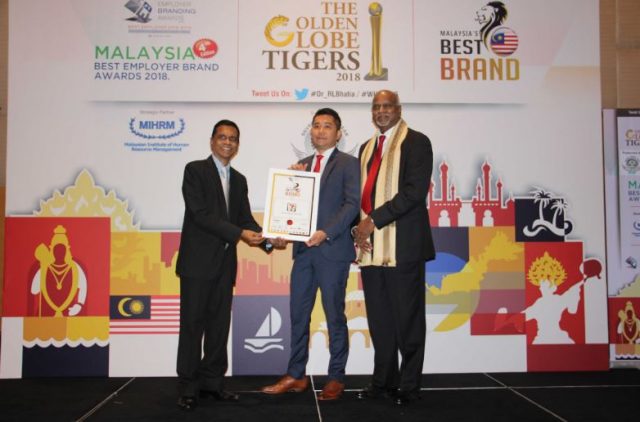 Kuala Lumpur, 3 May 2018 – 7-Eleven Malaysia, the leading standalone convenience store chain in the country, received another recognition accolade by being recognized as one of Malaysia's Best Brands at the Golden Globe Tiger Awards held recently in Pullman Kuala Lumpur.  The attainment of the award marks yet another achievement for 7-Eleven as it represents the acknowledgement for branding excellence in the country.
The 5th Malaysian Edition of the Golden Globe Tigers Awards is multi-functional, multi-discipline and industry-focused and recognises 'tigers' in marketing, branding, corporate social responsibility (CSR) and social innovation among others with its inaugural Malaysia's Best Brands Award, backed by its research partner, CMO Asia, awarded to professionals and organisations who have excelled and made a difference to the society it operates in.
General Manager, Marketing of 7-Eleven Malaysia, Ronan Lee shared, "It is indeed an honour to be recognised with this prestigious award and serves as a further validation of our achievements over the years that has been recognised with numerous other awards such as Putra Brands among others. We are in gratitude to the public for being supportive of our branding efforts as well as being endlessly supportive of the business. All of us at 7-Eleven Malaysia have been further motivated by this achievement and we will continuously strive to fulfill the needs of consumers better by providing true convenience as at 7-Eleven Malaysia, We're Always There For You".
The Golden Globe Tiger Awards – Malaysia's Best Brands are awarded based on an intensely researched process undertaken by a research cell that produce a shortlist of exemplary individuals and organisations and track the record of their achievements. A jury comprising senior professionals from across the globe then reviews the shortlist and among the leading organisations recognised at the inaugural Malaysia's Best Brands Awards are Nivea, TM, Fonterra, CIMB and Grab.
7-Eleven Malaysia is the pioneer and the largest standalone 24-hours convenience store operator in the country with over 2,230 outlets nationwide. For more information, please log on to www.7eleven.com.my or follow 7ElevenMalaysia on Facebook, Instagram and Twitter.