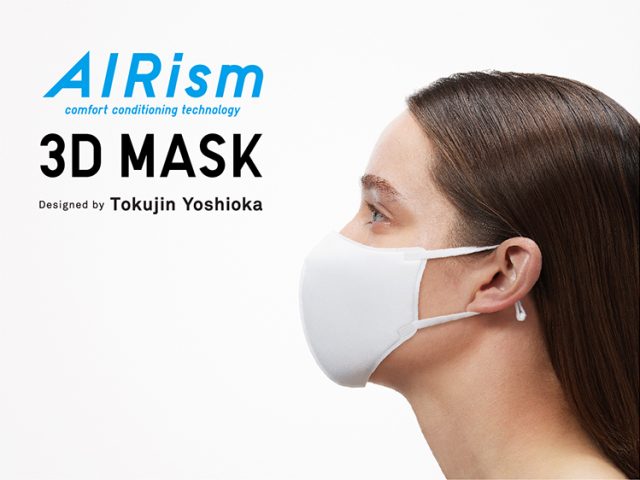 New mask by designer Tokujin Yoshioka combines beautiful form and mask performance
February 21, 2021, Kuala Lumpur – Global apparel retailer UNIQLO today announces the launch of AIRism 3D MASK, a new version of its AIRism Mask combining performance with a three-dimensional aesthetic beauty in a seamless design. This new offering from LifeWear brand UNIQLO allows everyone to be more comfortable at a time when masks have become an essential part of everyday life. AIRism 3D MASK will be available at all UNIQLO stores in Malaysia and through uniqlo.com from Monday, February 28.
3D beauty achieved by trialing more than 100 patterns with designer Tokujin Yoshioka
The challenge of designing a new mask was undertaken by Tokujin Yoshioka, the internationally renowned, award-winning designer who has given the world numerous exceptional product designs. The final form, completed after repeated trialing of more than 100 patterns, features a clean three-dimensional feel and sharp face line. "A beautiful design must be simple and innovative, as well as functional. I hope the experience of wearing this mask makes everyday life more beautiful and positive," says Yoshioka, illustrating the UNIQLO LifeWear philosophy.
Mask performance using a nonwoven filter with a seamless design for a beautiful face line
The inside layer against the skin, which greatly affects mask comfort, is made of smooth and silky AIRism. The triple layer construction, with a nonwoven filter for the middle layer, provides a bacterial filtration efficiency of 99%, blocking droplets, bacteria, virus-contaminated particles, and pollen.1 The unique seamless construction reduces uncomfortable friction against the skin. Furthermore, the clean face line gives a stylish impression when worn.
Ear adjusters further enhance the merits of the unique 3D design
AIRism 3D MASK employs a bonding technology that adds a stiffness to the fabric, and a seamless manufacturing process. This helps retain the shape of the mask, while the 3D design lessens the pressure against the lips, making breathing and conversation easier. An additional feature of the mask is the newly developed ear adjusters that allow the fit to be adjusted to the user's preference. This reduces irritation around the ears, maintaining comfort even when worn for long periods.
Beautiful form and nonwoven filter performance retained even after 20 washings
Since masks are something that people wear on a daily basis, UNIQLO focused on developing washable types from the standpoint of sustainability. AIRism 3D MASK uses interlining cloth to retain the mask's unique three-dimensional aesthetic beauty. Like the previous AIRism Mask, the mask can be machine washed (using a laundry net). Tests conducted by a professional testing agency demonstrated that the nonwoven filter in the center of the triple layer construction retained its effectiveness even after 20 washings.