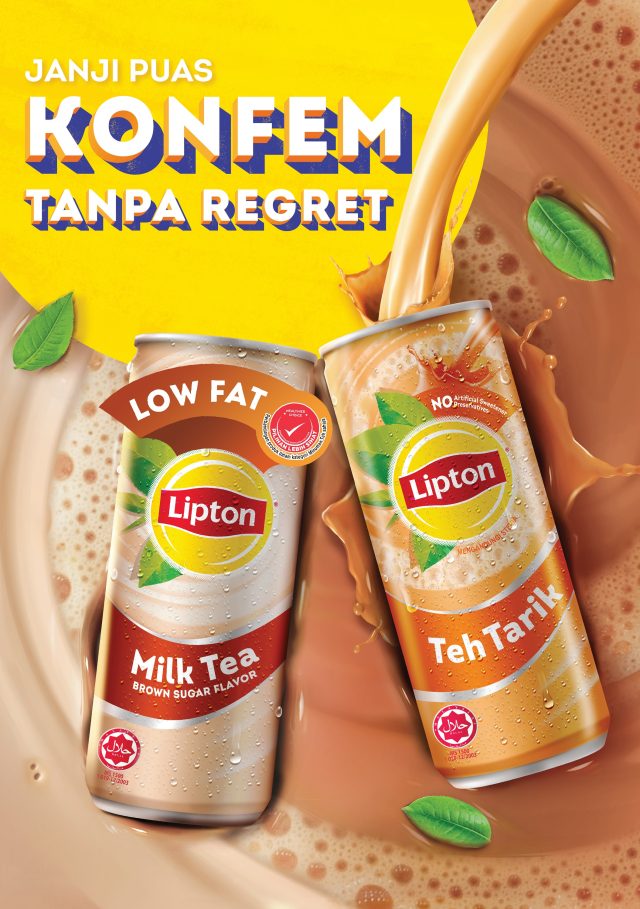 Lipton brings a local classic for consumers in a convenient, to-go format
KUALA LUMPUR, 3 MARCH 2022 – Lipton, one of the world's leading tea brands has launched their new milk tea range, Lipton's very own blend on the local favourite drinks. Continuing to expand their current offerings for consumers in Malaysia, Lipton Malaysia decided to launch two variants under this range – Lipton Teh Tarik and Lipton Milk Tea. With the increasing interest of milk tea drinks in Malaysia, these new additions are sure to captivate consumers' taste buds and satisfy their milk tea cravings.
Leveraging on the on-going market trend for bottled and canned tea products and responding to customer preferences, Lipton is not only expanding its product portfolio beyond Black Tea and Green Tea segment but also bringing delicious milk tea with a blend of imported Lipton tea leaves for Malaysians, that has lower contents of fat and sugar. Lipton is looking into being the landscape creator by being the only tea brand offering Teh Tarik and Milk Tea variants in a convenient can format as opposed to key competitors' offering in bottle format.
"We at Lipton has always strived to give our consumers products that are innovative and delicious. During the pandemic, we noted that we were missing an important aspect of our Malaysian culture – Mamak Teh Tarik sessions. With this in mind, Lipton has introduced our very own Lipton Teh Tarik and it is with great excitement that we are bringing the local flavour in a to-go format while adding the Lipton Milk Tea to our product portfolio. Both flavours have less than 5g sugar level with low fat content which gives our consumers a drink they can enjoy with less guilt. We will continue to take our consumers taste preferences into consideration and give our consumers a drink that they can enjoy," said Yee Pek Kuan, Vice President of Marketing at Etika Sdn Bhd.
Bringing tea lovers a delicious blend, Lipton's latest milk tea range, will be made available in two exciting variants, namely Lipton Teh Tarik and Lipton Milk Tea.
Recognising an important aspect of Malaysian culture, Lipton decided to bring the local mamak teh tarik to the consumer's home with their brand-new Lipton Teh Tarik variant, which will be available in 240ml cans on the shelves of your favourite grocer. With the Lipton Teh Tarik, Malaysians can now enjoy their Mamak Teh Tarik on-the-go.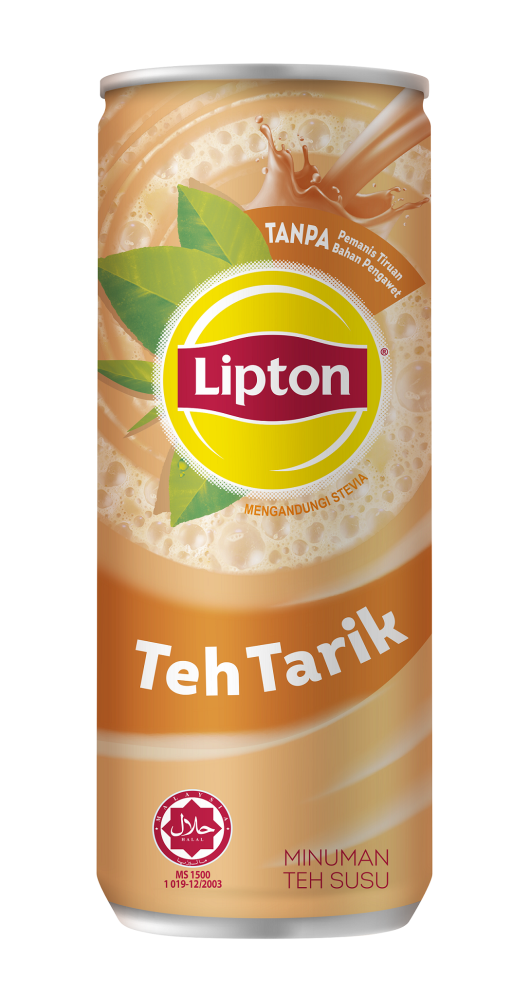 For the modern tea lover, Lipton has also introduced a brand-new Lipton Milk Tea variant with Brown Sugar flavour. Ensuring that their products are better for consumers, the Lipton Milk Tea replaces white sugar with brown sugar, giving the milk tea a deeper flavour, still tapping into the Brown Sugar trend in Malaysia. Both Lipton Teh Tarik and Lipton Milk Tea have less than 5g sugar level. Lipton Milk Tea comes with low fat content, whereas Lipton Teh Tarik doesn't have any artificial sweetener and preservatives, which are perfect to sip on during a tea break. Consumers can now enjoy their Teh Tarik or Milk Tea pleasure with less guilt!
Cannot wait to get your hands on the new Lipton Teh Tarik or Milk Tea? Both products are available in 240ml cans nationwide across major convenience stores, petrol stations as well as provision stores.
If you want to give Lipton Milk Tea range a try, free samplings will be offered at selected convenience stores and petrol outlets. If you are using public transport to commute daily, keep an eye out, as Lipton will also be offering free samplings at selected MRT/LRT locations.
For more information, stay tuned to Lipton's Facebook page https://www.facebook.com/liptoniceteaMY/.