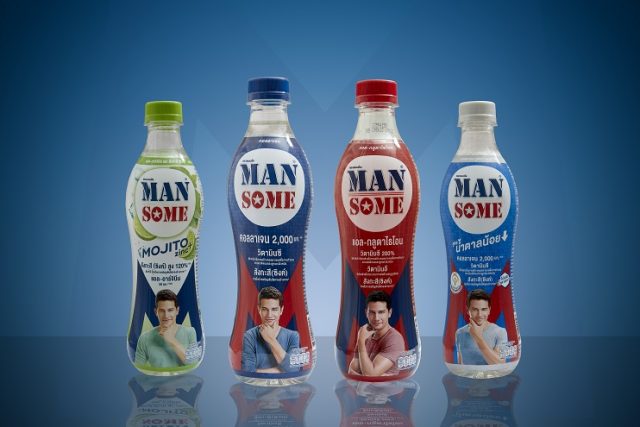 6 July 2022 – 'Mansome' – a functional beverage for men under TCP Group has unveiled its first-ever packaging facelift in ten years. Designed for today's gentlemen who are both health-concious and eco-minded, the new look with an easier-to-read nutrition label will first be seen on PET bottles, followed by recyclable aluminium cans. Mansome is the first brand under TCP's House of Great Brands to start using sustainable packaging to align with one of TCP Group's key strategies: 'Caring – Energizing our environment'. TCP Group strives to collect and recycle its products and has set a goal to ensure all its packaging will be 100% recyclable by 2024.
Ms. Prapaipak Weigl, Global Marketing Director (F&B), TCP Group, said: "Mansome has been a friend to Thai men for over a decade. This packaging facelift conveys a message of contemporary gentlemanliness, which comprises both a well-groomed apperance and a love for the environment. The packaging redesign addresses the changing lifestyles of today's consumers as part of the company's 'Fulfilling – Energizing our brand' pillar and also creates a positive impact on the environment as part of the 'Caring – Energizing our environment' pillar – the two main strategies under TCP Group's new purpose 'Energizing a Better World for All'."
Mansome's new packaging was designed for today's gentlemen who are both health-concious and eco-minded, with a bold letter 'M' that represents Mansome – contemporary gentlemanliness that comprises a caring attitude toward both the self and the world. The nutrition label is clear and easy to read with a 'Please Recycle' call-to-action that encourages consumers to separate and recycle Mansome containers. Mansome bottles are made of polyethylene terephthalate (PET) plastic. Recycling a single ton of PET plastic is equal to reducing one household's electricity use for a year or reducing carbon emission from 10,000km of driving. [1]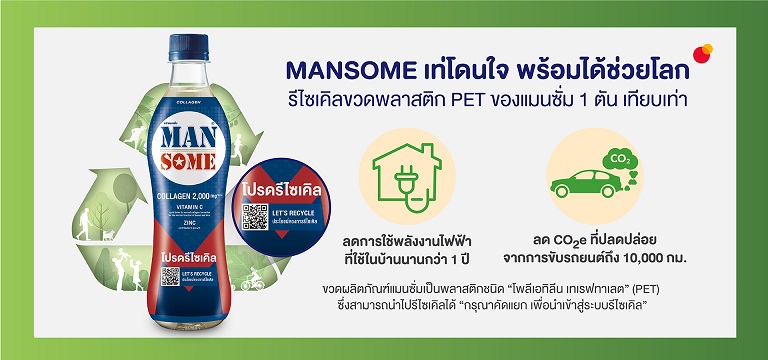 TCP Group also partners with Thai Beverage Can, Thailand's leading manufacturer of aluminium and beverage caps under 'Transparency of Aluminium Can Closed-Loop Recycling' to collect and recycle used aluminum cans, bringing closed-loop recycling to a full circle.
Mansome Collagen Sleek Cans will have the 'Aluminium Loop' symbol to communicate and reassure consumers that aluminium cans can be recycled into new cans in the infinite loop. Consumers can follow the latest news on the project at aluminiumLoop.com/tcp or https://www.tcp.com/product/functional-drink/mansome.
References:
Coefficient emission number according to Thailand Greenhouse Gas Management Organization
Average electricity consumption per household according to the PEA
CO2 emission figure from cars according to the Fiscal Policy Office