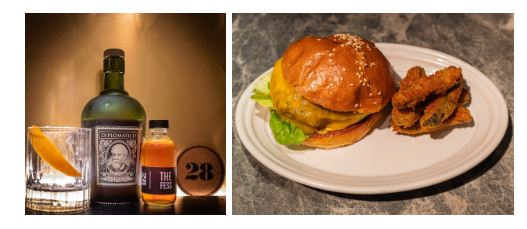 Singapore, 17 April 2020 – Recognising how much more there is to a bar than just the drinks, the team from 28 HongKong Street invites friends and family to break the COVID-19 monotony with the famous 28 experience at home. All you need is cabin fever and the internet, and anyone can log on for a socially distanced 28HKS House Party.
So, what are the crucial elements to a memorable House Party? Let's break it down…
The Drinks
You clearly can't have a cocktail party without cocktails. Each guest can choose three drinks (100ml each) from the House Party menu, including:
Lazy Bear (Herbal, Fresh, Smooth) – the best mix of peaches and herb since the death of disco
28 Mezcal Negroni (Smoky, Earthy, Bittersweet) – the 28 take on the classic, equal parts aperitif
Remember the Maine (Spirit-forward, Bold, Debonair) – a lost cousin to the Manhattan
The Fess (Rich, Comforting, Night-capper) – Rum and chocolate, the best pairing since rhythm and blues
Wake Up Call (Bright, Nostalgic, Crushable) – Put some pep in your step with this modern coffee classic
Last Dragon (Spiced, Tart, Complex) – Chai spice and new/old tech meet gin's great grandfather
Additional offerings such as beer, shots or champagne are also available upon request. You can even surprise a friend with a drink, just add it to your order and it will be included in their delivery.
The Food
Snacks are also an essential part of any well-hosted party. Each guest will receive a selection of bites from 28's menu, including:
Truffle Mac N' Cheese Balls – crunchy truffled bites of gooey American comfort
Garden Chips – a medley of sweet potato, taro and yam
Fancy Nuts – whiskey praline and chilli lime
Apple Fritters – with bourbon cream
Hot food arrives nearly ready, however, may require a bit of assembly before serving to ensure it tastes its best.
The Music
Music is one of the elements of the 28 HKS experience that guests enjoy most – a blend of mostly hip-hop, some songs are nostalgic while some are Avant-Garde. The House Party experience includes access to a curated Spotify playlist with some of 28's favourite jams to enjoy at home.
The Hosts
Any party is only as good as its hosts, so naturally, the House Party experience includes 28's bar family to serve as your hosts, as they would for any guest at the bar. Powered by Zoom, the team will greet everyone and get the party started, sharing details and stories about each cocktail selected for the party.
The Logistics
The 28 HKS House Party is available to groups of four or more, priced at S$88 per person or S$158 per couple in the same residence. Delivery costs are not included in the pricing and will be dependent on location (starting from S$12 for centrally located destinations).
Party Plus Ups
Essential rations from 28 HKS' food and drinks menus are also available a la carte or as an add-on to the House Party. Each cocktail from the House Party menu is available in 100ml portions for S$21. Nibbles include 28 favourites such as The Burger, made with 100% American beef, secret sauce, sharp cheddar and served with fried pickles on the side (S$19) and the Hot Chicken Tenders, chicken fried with Mexican panko and scorpion chilli, served with whipped Ranch dressing (S$18).
All offerings are available for takeaway or delivery by advance order between 5 to 10 pm, Tuesday through Saturday via WhatsApp (+65 8318 0328) or email ([email protected]). One to two days of advance notice is requested on any House Party orders for the experience to be curated accordingly. Payment can be made via PayPal.me/28HKS for deliveries, and cash or credit card for takeaway.