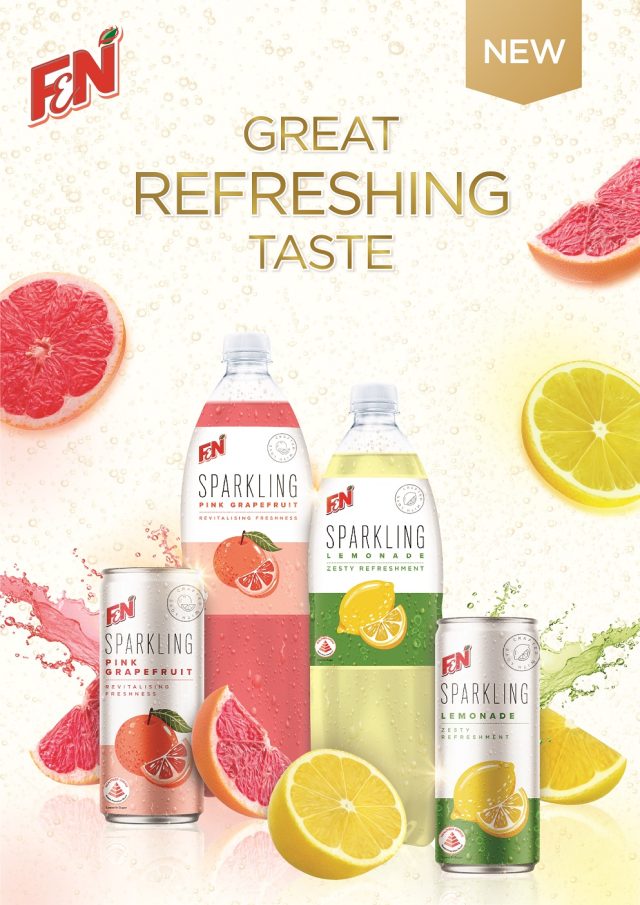 Singapore, 15 March 2022 – F&N Fun Flavours has treated Singaporeans with its bold, vibrant and fun-tasting drinks that have never failed to add a pop of colour and energy to occasions, get-togethers, and festivities. Always effervescent and fun, F&N Fun Flavours continues to appeal as the brand that is well-loved for generations and it continues to appeal to the young and young at heart. 
Adding more reasons to the fun and enjoyment is the launch of the brand-new F&N Sparkling range – the effervescent Lemonade and the spirited Pink Grapefruit. Packaged in snazzily designed PET bottles and cans, the two great refreshing flavours are both appealing to the eye and the taste buds. These two distinctive flavours are also some of the current top favourites found in various treats ranging from cakes to pastries and even salads.
Best served chilled on its own or as mixers in cocktails and mocktails, the effervescent drinks with their refreshing burst of citrus in sparkling soda at the right sweetness are perfectly invigorating especially in Singapore's warm tropical climate.  
Fans of the universally popular lemonade drink will fancy the F&N Sparkling Lemonade for its zesty temptation. Its bright and tarty taste is concocted to be the perfect pick-me-up for everyone at any time of the day.
For a generous rush of revitalising freshness, grapefruit lovers will revel in the outstandingly piquant and subtly bitter flavours of the F&N Sparkling Pink Grapefruit. A tall chilled glass of the crisp and robust treat will exhilarate every occasion and reason to get together.
is now available at most supermarkets, hypermarkets, and participating retails outlets with a Recommended Selling 
Price (RSP) of S$2.40 for a 1.2-litre pack and S$6.25 for a pack of six 325ml cans. The delicious drinks are also halal-certified, and carry the Healthier Choice Symbol by the Health Promotion Board (HPB) for lower in sugar content.