April 2022 – Malaysian food and in particular Ramadhan buffets, exemplify the traditions, tastes and colours of Malaysia. From old family favourites, to refreshing drinks after a day of fasting and sweet multihued kuih to finish off the Iftar, these affairs are celebrations of variety and togetherness, especially following the years when gatherings were kept small and private due to lockdowns. This year, SOULed OUT Kuala Lumpur and WIP On The Park are offering buffet specials with a selection of delicious Ramadhan dishes in airy, spacious environments that have been decorated with an Arabian influence and are perfect for friends and family to meet and renew ties. Ala carte Ramadhan specials are also available for dine in or takeaway at WIP Bangsar Shopping Centre as well as SOULed OUT Kota Kinabalu and also for delivery from SOULed OUT Kuala Lumpur (Hartamas).
The Ramadhan buffet menu, which comprises of signature local dishes, will be switched up every night to highlight the variety of flavours Malaysian cuisine has on offer.  The Ramadhan buffet is available Sunday to Friday at SOULed OUT Kuala Lumpur (Hartamas) at RM60++ for adults and RM40++ for children, while at WIP On The Park, it is available on weekdays at RM98++ for adults and RM68++ for children. For the duration of the promotion, WIP On The Park is also offering the sixth buffet free for every five other buffet diners in a party. Due to popular demand, seating is limited, so diners are encouraged to call 012 200 1955 for reservations at SOULed OUT Kuala Lumpur (Hartamas) and 012 210 3055 for reservations at WIP On The Park.
Ramadhan specials at SOULed OUT Kuala Lumpur (Hartamas) include the Slow Baked Tomahawk steak served with baked pumpkin, Greek salad, naan with curry leaves, tomato salsa and black pepper sauce @ RM280++ and Roasted Spring Chicken served with baked potato, sweet corn, naan with curry leaves, percik and thyme sauces for RM35++.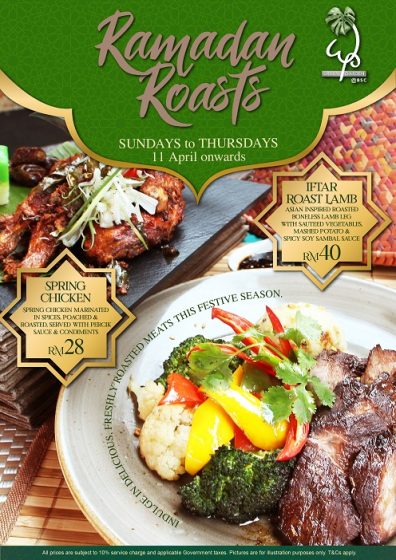 In addition, WIP at Bangsar Shopping Centre is also offering the ubiquitous Ramadhan favourite, Iftar Roast Lamb, an Asian inspired roasted boneless lamb leg with sauteed vegetables, mashed potato and spicy soy sambal sauce @ RM40++ and their own version of Spring Chicken marinated in spices, poached then roasted and served with percik sauce and condiments @ RM28++. Diners can make reservations to break their fast at WIP Bangsar Shopping Centre by calling 012 650 5722.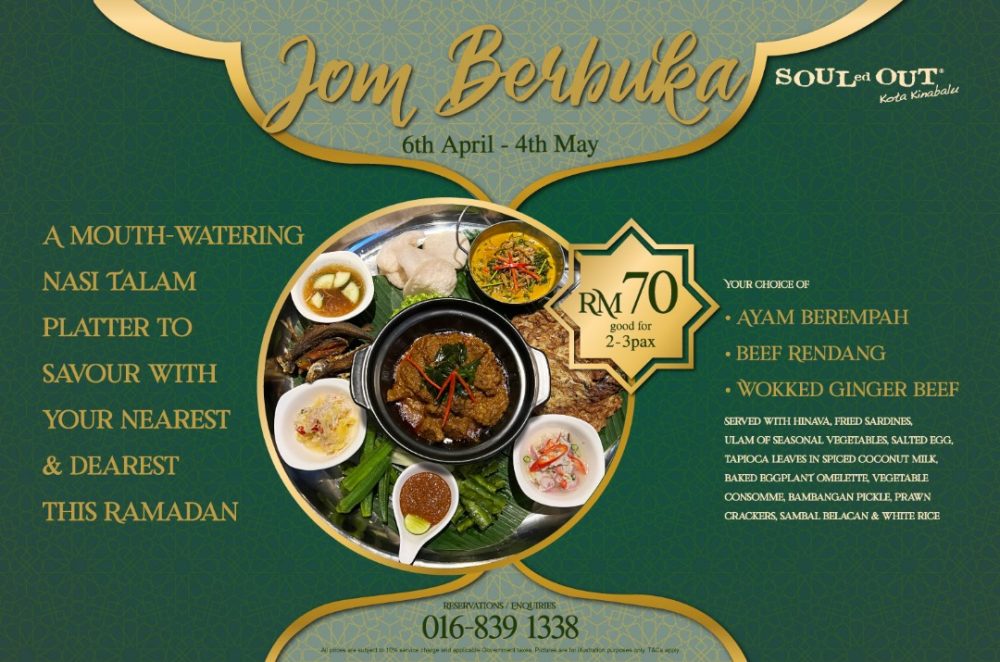 During Ramadhan, for groups of two or three guests, SOULed OUT Kota Kinabalu will be featuring a mouth-watering Nasi Talam Platter @ RM70 with choices of Ayam Berempah, Beef Rendang or Wokked Ginger Beef served with hinava, fried sardines, ulam of seasonal vegetables, salted egg, tapioca leaves in spiced coconut milk, baked eggplant omelette, vegetable consume, bambangan pickles, prawn crackers, sambal belacan and white rice. Reservations can be made at 016 829 9268.
Be sure to check out these Ramadhan promotions while they last!
ABOUT SOULed OUT
SOULed OUT began in 1996 as a small neighbourhood café in Mont Kiara and moved to her current premise in Desa Sri Hartamas in December 1999. So, named as each and every staff member puts their heart and soul into providing her patrons with the best. More than two decades on and having served over 5 million patrons, SOULed OUT has matured into an assured personality with a fun-loving spirit. An eclectic mix of Asian, Western and Northern Indian food and beverages make it a place for friends and family to foster the spirit of friendship and camaraderie.
Our other outlets in Bangsar South and Kota Kinabalu are located in the heart of the city to cater to patrons in the vicinity. Whatever it is, an encounter with SOULed OUT is always 'as good as a hug'. SOULed OUT's accolades include 'Outlet of the Year', 'Best Resto-Bar 2013-2014' at the prestigious Hospitality Asia Platinum Awards (HAPA), Malaysia Tatler Best Restaurants 2015 SOULed OUT Kuala Lumpur – Exceptional Cuisine & Service, Timeout KL Food & Drink Awards 2016, Best Neighbourhood Pub, winner of Dining's Best of The Year Award 2020: and most recently Tatler Malaysia's Legacy Award and Tatler's Best Restaurant for 2022 for SOKL, WIP BSC & WIP On The Park.
ABOUT WIP
From its beginnings as a Work In Progress to a landmark lifestyle destination, WIP is now Whipped Into Place, and has firmly established itself as a polished diamond glittering in the dining landscape of Kuala Lumpur. Located at the prominent BSC and Marc Residence, the urban tropic garden is THE place to hang out and unwind.
Cosmopolitan Cuisine is the direction of WIP's menu. With inspiration from different continents, the food is prepared with the best and most fresh of ingredients. It is an innovative and creative menu that will surely cater to a wide variety of tastebuds and please any palate. Lovers of innovative beverages will surely rub their hands in glee with resident mixologists creating liquid perfection before your very eyes at the uniquely shaped Clam Bar. A delectable selection of Mojitos, signature & classic cocktails are available to quench your thirst, as are fine whiskies, boutique liquors, premium beers, champagnes, and wine.