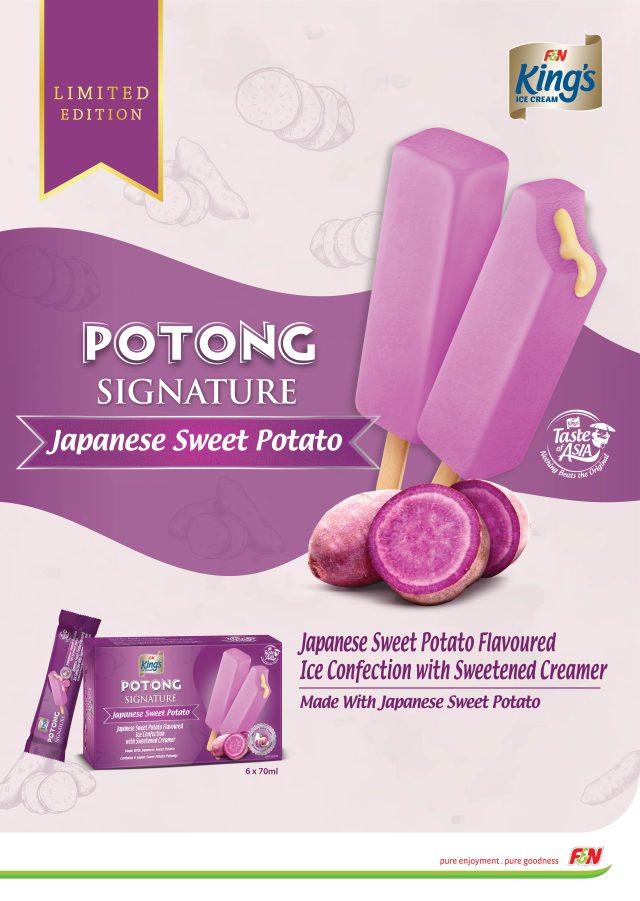 The treasured taste of Asian ice confection dessert on a stick
Singapore, 5 April 2022 – King's Potong marks its tribute to the delectable Japanese sweet potato with its latest launch of a limited-edition King's Potong Signature Japanese Sweet Potato ice cream.
As the largest continent on the globe, Asia is home to an almost endless variety of wonderful desserts made from a plethora of ingredients found in diverse regions. Among these ingredients is the Japanese sweet potato, prominently found in savoury and sweet dishes, as well as in many Asian desserts which appeal to both the young and old.
The Japanese sweet potato has been ever so popular for its distinct creaminess and fluffier lighter texture, and also for the fact that it is high in antioxidants, dietary fibre, and vitamin A. This beloved taste of Japan is hard to miss here in Singapore, at department stores to food kiosks in shopping malls and streets, often the prized snack found at the end of snaking queues.
Easily identified by its reddish-purple skin, the Japanese sweet potato has a distinctive mildly sweet taste with notes of chestnut which sets it apart from the other varieties of sweet potatoes.
Known for its versatility across the rich diversity of unique food cultures in Asia, the Japanese sweet potato is served in many delicious ways – be it baked, steamed, roasted, whipped, blended, or fried. It is also featured as the main ingredient and filling in sweet and savoury treats such as soups, crisps, pies, tarts, and puddings.
King's Potong Signature Japanese Sweet Potato promises to be a deliciously cool indulgent treat – perfect for Singapore's warm sunny days. The first bite off the luscious purple icy confection delivers the scrumptiously rich taste of Japanese sweet potato. Venture deeper into the centre to uncover a luscious sweetened creamer to complement the Japanese sweet potato flavour.
Quality potong from King's Potong 
For 40 years, King's has served delicious 'Potong' frozen confection that is loved by many. It brings back fond memories of the good old days with its Asian-inspired treats. With the same trusted quality, King's Potong Signature range promises to delight the palate with quality 'potong' made from only fine quality ingredients.
Don't miss out on this delightful limited edition treat from King's Potong
The new King's Potong Signature Japanese Sweet Potato will be available while stocks last in single serves at the Recommended Selling Price (RSP) of S$1.40, and in multipacks of six at the RSP of S$7.60. They can be purchased at all leading supermarkets and hypermarkets.