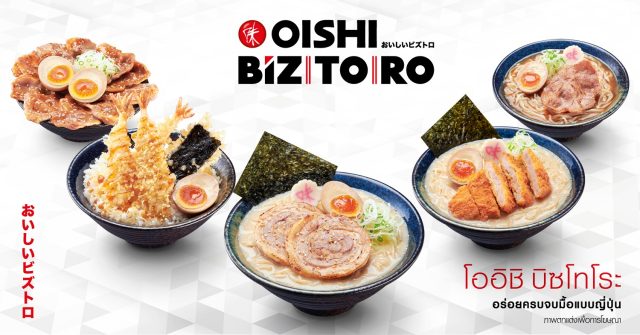 Tuesday 05 April 2022 – OISHI", a King of Japanese Food, continues to create opportunities amid the crisis, by creating a new brand to strengthen the portfolio. The company launches "OISHI BIZTORO" as an alternative to simple deliciousness in modern Japanese style. The new restaurant brand meets the customers in terms of price and value, as well as the locations that are more accessible and convenient, such as petrol stations and community malls.
"As for OISHI, we continue to develop and create new Japanese food experiences in order to respond more to diverse and specific consumer needs. Most recently, OISHI created a new brand to strengthen the Japanese restaurant group portfolio and expanding the business. The company launched "OISHI BIZTORO" under the concept "Easy Delicious Choices in Modern Japanese Style" for new generation who wants convenience, deliciousness, and speedy meals. Most important thing is to have a variety of menus at affordable prices and can be eaten often," added Mrs. Nongnuch Buranasetkul, President & CEO of OISHI Group Public Company Limited.
For "OISHI BIZTORO", the brand was developed as a 'hybrid' Japanese restaurant serving fast food and full service. The restaurant offers a wide variety of popular and familiar Japanese dishes, divided into 3 main groups: (1) "Ramen and Soba" Noodle Menu Group (2) "Donburi" Rice Menu Group and (3) Snack Menu Group. There are more than 50 different menu items in total.
The "Ramen and Soba" Noodle Menu Group presents recommended menus, such as Tonkatsu Chashu Ramen, Miso Salmon Ramen, Dashi Tempura Ramen, Tsukemen and Zaru Ramen, etc. Prices start from 89 baht.
The "Donburi" Rice Menu Group offers recommended dishes such as Pork Tonkatsu Don, Chicken Karaage Don, and Shrimp Tempura Don, coming with a variety of sauces that customers can choose to match as they like, such as Teriyaki Sauce, Tonkatsu Sauce, Tonkatsu – Mayo Sauce and Curry Sauce, etc. Prices start from 99 baht.
For the Snack Menu Group, recommended menus include Fried Gyoza, Chicken Karaage, Takoyaki and Shrimp Tempura. Prices start from 79 baht.
There is also a group of toppings that go with every dish, including Ramen and Donburi, and there are many types and flavors for customers to choose from.
Full and good value offered in the complete set, both main dish (Ramen or Donburi), Second dish (Snack), and Beverage at a very good price, only at between 150 and 180 baht per meal on average.
While the service model is Self Service, which is easy to order and hassle-free through the following steps: Step (1) Order food at the counter with payment.  Step (2) Get a wireless food pickup machine from the staff, sit back and wait for your food at the table. And Step (3) Upon hearing a signal from the wireless food pickup machine, the customer can pick up food at the counter and it's ready to eat.
"OISHI BIZTORO" is now available in department stores/shopping centers to petrol stations, which are the places where a lot of people travel as follows: (1) OISHI BIZTORO Central Ayutthaya – Phra Nakhon Si Ayutthaya Province (2) OISHI BIZTORO Central Si Racha – Chon Buri Province (3) OISHI BIZTORO Caltex Ngamwongwan (Ravee Service) – Bangkok.
The company plans to continuously expand the fourth branch and service area of OISHI BIZTORO to the community mall project with OISHI BIZTORO Saimai Avenue to be officially opened on April 12, this year.