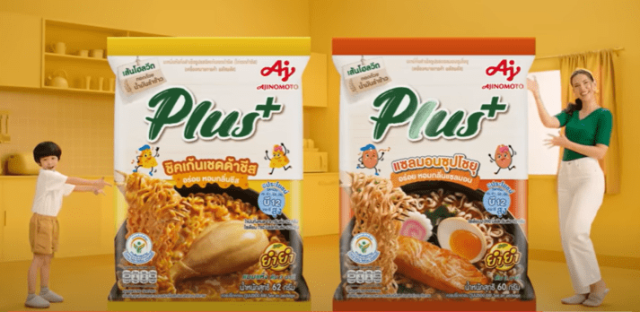 Ajinomoto Co., (Thailand) Ltd. has launched a better-for-you instant noodle in Thailand. Targeting children, Ajinomoto Plus+ Yum Yum is fortitifed with A, B1, B2, B6, B12 and C. The wholewheat noodles are fried using healthy rice bran oil. The instant noodle is certified as a Healthier Choice.
Essentially, Ajinomoto Plus+ Yum Yum offers a healthier choice for children who are a big addressable market for instant noodle. We have seen Indofood in Indonesia launching similar products in the past with My Noodlez. My Noodlez, which has since been discontinued, was specially formulated to appear healthier than ordinary instant noodle. The range consisted of Salmon Teriyaki, Seaweed (rumput laut) and Pizza Cheese. The noodles were made either from seaweed (noticed the green coloured noodle) or from carrot (wortel). Similar to Ajinomoto Plus+ Yum Yum, My Noodlez was fortified with vitamin A, B1, B6 and B12.
In Thailand, Ajinomoto Plus+ Yum Yum is available in Salmon Shoyu and Chicken Cheddar Cheese flavours.
Ajinomoto has earlier launched Ajinomoto Yum Yum Sood-Ded Spicy Lobster Flavoured Instant Cup Noodle.