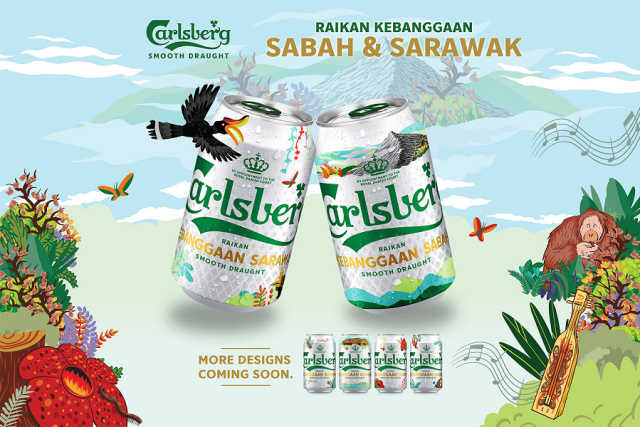 Carlsberg Malaysia has launched six artistically designed special-edition cans and bottles for its Carlsberg Smooth Draught range to celebrate the pride of Sabah and Sarawak. The limited edition builds upon the success of its Gawai and Kaamatan Festivals' limited-edition packaging in 2021.
Sporting six unique icons in vibrant colours, the 'Sabah & Sarawak Pride' packaging sublimely accentuates the lush local nature and rich culture in an illustrative composition, showcasing a masterpiece of contemporary art and beer. The creative artworks feature icons such as the Orangutan, majestic mountains and Rafflesia of Sabah and the Longhouse, Hornbill and Sape of Sarawak.
Available in 320ml cans and 580ml bottles, these iconic Carlsberg Smooth Draught products are made exclusively for Carlsberg consumers in Sabah and Sarawak and will be introduced in three phases through island-wide consumer promotions. The first two designs were revealed in March 2022, followed by another two in conjunction with the coming Gawai and Kaamatan festivals and the final two to be unveiled towards the last quarter of the year.
Beginning from March until the end of May are exciting consumer promotions that offer beer lovers in Sabah and Sarawak a chance to win a brand-new Samsung A22 worth RM899 when they enjoy RM90 worth of Carlsberg beers at participating bars and pubs in a single receipt. There are also limited-edition t-shirts, which comes in two collectible designs, redeemable at local coffeeshops and food courts with any purchase of 12 big bottles of Carlsberg Danish Pilsner or Carlsberg Smooth Draught.
Customers who purchase any two 6-can pack of Carlsberg Danish Pilsner or Carlsberg Smooth Draught from super and hypermarkets can redeem RM5 GrabPay Credit or if beer lovers prefer purchasing a carton instead, they will then be able to redeem RM10 GrabPay Credit! Buying any two cans of Carlsberg Danish Pilsner or Carlsberg Smooth Draught in participating convenience stores will also give customers a chance to be in the running to get up to RM88 GrabPay credit.
Start Gawai and Kaamatan celebrations early this year with the special-edition Carlsberg Smooth Draught cans and bottles available exclusively in Sabah and Sarawak only. Visit https://carlsbergsabahsarawak.com to find out more about promotions in-store. 'Like' and 'Follow' @CarlsbergMY on Facebook and Instagram for Carlsberg's latest activities and giveaways.
Of course, as part of living a safe and responsible life, we advocate responsible consumption, always remember if you drink, don't drive – #CelebrateResponsibly.
Click here to purchase Carlsberg from its official Shopee store.