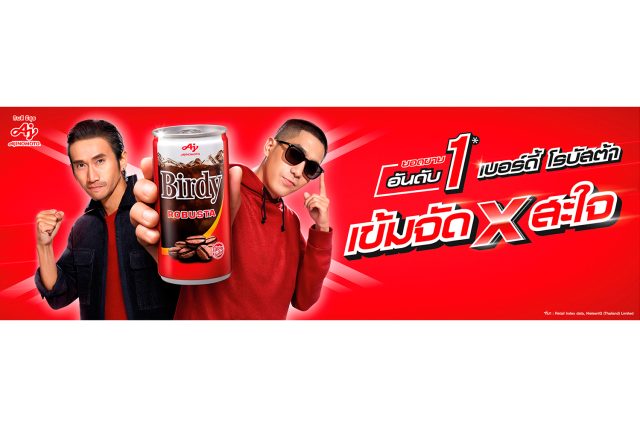 "Birdy®", the top market leader of RTD canned coffee in Thailand, has strengthened and elevated its "Birdy® Robusta" marketing communication strategy to reach out and capture more new generations by debut "Tong Twopee" as new co-presenter to express Birdy's message together with its existing presenter "Toon Bodyslam", a Thai famous singer. The 2 presenters will help inspire and encourage all Thai people through a new TV Commercial under the concept of "Birdy Robusta, Intense X Satisfied", while reinforcing the brand's strengths with the intense taste, nice aroma, and high-quality raw materials of "Birdy® Robusta" coffee.
Nowadays, the consumer behavior has changed and become more health consciousness. In response to insight consumer need, "Birdy®" has been constantly developing "Birdy® Robusta" product to meet consumers' expectation both in term of "Product quality" and "Health promotion". Through the quality, the product offers consumers full of intense coffee taste and attractive aroma from "well-selected Robusta coffee beans" giving "Birdy® Robusta" an intense taste and distinct aroma unlike any other to match the concept of "Intense X Satisfied". "Birdy®" also contributes to creating a "Healthy living society" among consumers, which can be seen from the "Healthier Choice Logo" which reflects our strong intention to support consumer's good health in accordance with our Ajinomoto Group Creating Shared Value policy (ASV). Through this relentless dedication, "Birdy®" is able to win the hearts of consumers as a brand that has "No. 1 sales in the ready-to-drink canned coffee market in Thailand".
"Birdy® Robusta" also launches the new TVC to penetrate and capture the attention of teenagers and modern consumers by combining a new song that "Birdy®" and "brand presenters" have created together, while maintaining the unique identity of the 2 presenters who can blend along perfectly through the inspiring commercial to attract the young generation and encourage all Thai people, just like "Birdy®" has been beside Thai people for 29 years. Everyone can experience the new look of "Birdy® Robusta" from a new TVC and keep updated information of "Birdy®" via our Facebook Fan page 'Birdy World' and www.ajinomoto.co.th
"Birdy®" is regarded as the pioneer in the market for ready-to-drink canned coffee since 1993 and has gained the trust of Thai consumers until becoming the No. 1 brand of ready-to-drink coffee in Thailand for the past 29 years. "Birdy® Robusta" is now available for 15 Baht at 7-ELEVEN, convenient stores and department stores nationwide.