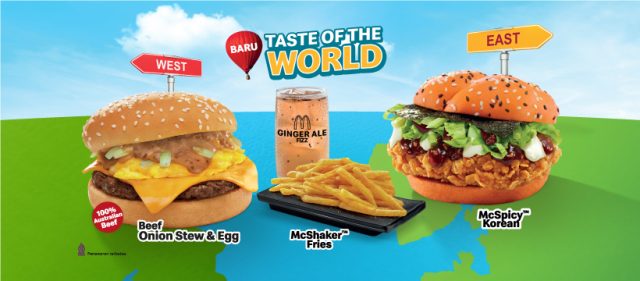 McDonald's Indonesia is bringing consumers on a culinary tour around the world with its latest "Taste of the Word" series. From the West, the fast food giant is offering Beef Onion Stew & Egg Burger and Double Beef Onion Stew Burger. From the East, McDonald's is providing Beef Spicy Korean Burger with Egg, McSpicy Korean Burger and side dishes like McShaker Fries Sweet & Spicy BBQ, Ginger Ale Fizz and Bubble Gum McFlurry.
The Taste of The World menu is available until 4 August 2022.
Even though international borders have largely opened, the concept of travel through food still has opportunity as the cost of travel remains high. Moreover, consumers continue to look for new food and drinks to try, thus spurring new innovation that draws their inspiration from foreign cuisines.