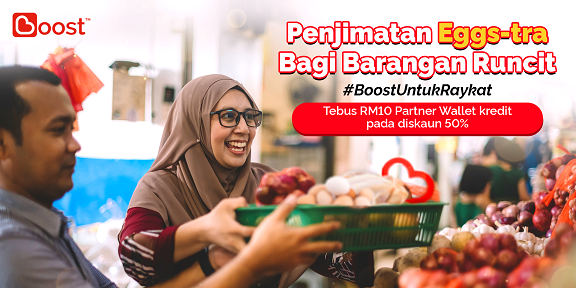 Boost calls for all Malaysians to recommend future support needed on social media
Kuala Lumpur, 14 July 2022 – Amid heightened concerns regarding the rising cost of living, Malaysians' preferred digital lifestyle and financial services app, Boost, continues to intensify its support for the local community by subsidising 50% on groceries, including eggs and chicken, across the month of July* (https://myboost.app.link/AZpKDPYxurb). The subsidy is part of its ongoing #BoostUntukRakyat relief aimed to aid Malaysians in reducing expenses. Boost also calls for Malaysians to recommend future support needed on Boost's official social media channels.
Sheyantha Abeykoon, Group Chief Executive Officer of Boost, said: "As the nation's leading homegrown fintech brand, we stand ready to give back to our local community in this time of need and provide support where we can. The #BoostUntukRakyat relief is a continuous initiative, and we want to hear from the rakyat on how Boost can better alleviate financial burdens for Malaysians. We encourage everyone to share your recommendations and we will work towards further enhancing our support."
Ungku Norliza Syazwan Ungku Halmie, Chief Executive Officer of Boost Life, said: "Many Malaysians have expressed their struggles to make ends meet in recent months due to price hikes on certain essential goods. We hope that our new 50% subsidy on groceries will help Malaysians afford more with less when purchasing eggs, chicken, and essentials at any of our partnered supermarkets across East and West Malaysia."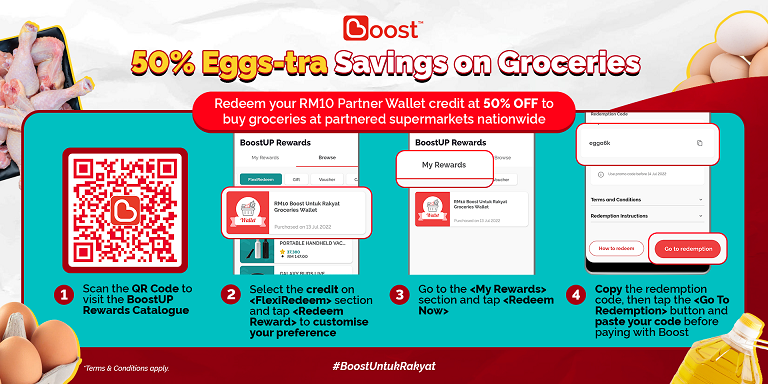 Throughout July, Malaysians can redeem the #BoostUntukRakyat RM10 Partner Wallet credit for groceries on the BoostUP Rewards Catalogue using only 4,000 Boost Stars, which is 50% off the original 8,000 Boost Stars requirement*. Alternatively, users can also redeem the RM10 Partner Wallet credit using a combination of RM4.75 and 200 Boost Stars via FlexiRedeem, for a direct saving of RM5 or 50% off*. The FlexiRedeem function gives Boost users the unique flexibility to redeem rewards using both Boost Stars and cash when short on either.
To redeem the RM10 Partner Wallet credit, users can visit the FlexiRedeem section within the BoostUP Rewards Catalogue on the Boost app. Upon selection, tap the 'Redeem Reward' button to customise the preferred combination of cash and Boost Stars needed to exchange for the RM10 Partner Wallet credit, then click 'Redeem Now' on the 'My Rewards' page and key in the redemption code to complete the process.
Upon successful redemption, the RM10 Partner Wallet credit will be valid for 30 days and has no minimum spend requirement. The redeemed credit will be visible on the 'My Partner Wallets' page, which will automatically be utilised when purchasing eggs, chicken, and daily necessities from any partnered supermarkets, including Lotus's, Giant, Mydin, AEON BiG, Village Grocer, and more in West Malaysia, as well as Bataras, Boulevard Sabah, Borneo Supermart, and others in East Malaysia.
Furthermore, Boost is also giving out accelerated Boost Star earnings via Boost Missions to make it easier for Malaysians to earn Boost Stars and redeem the RM10 Partner Wallet credit. Throughout July, each user can earn up to 2,000 bonus Boost Stars by completing the Bill Payment and Top Up missions on the Boost app*. This is on top of the existing 1 to 3 Boost Stars that users earn for every RM1 spent on a normal basis, which ensures savings with every ringgit spent*. There will also be additional rewards and offers on 15 July during the monthly BoostUP Day.
The 50% subsidy on groceries by Boost is the latest addition to the long-term and ongoing #BoostUntukRakyat relief. Previously, Boost supported Malaysians by reducing monthly household bills through BoostBills in June 2022, collaborated with MAIWP for several initiatives targeted at the B40 community since February 2022, partnered with multiple NGOs to collect and distribute donations for the flood in December 2021, and much more.
To enjoy the 50% subsidy and BoostUP Rewards, visit: https://myboost.app.link/AZpKDPYxurb
To earn Boost Stars via Boost Missions, visit: https://myboost.app.link/Ou7wJ3ojCrb
For merchants and brands looking to give their business a boost, visit: https://bit.ly/3yuoQyp