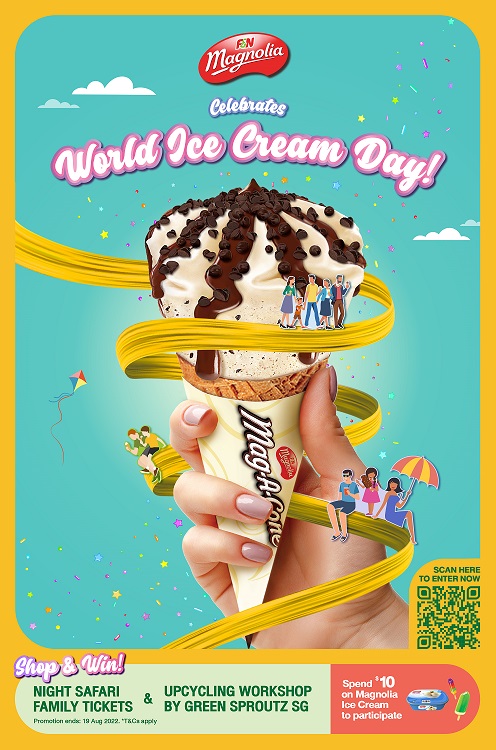 Singapore, 25 July 2022  –  Ice cream is not only a fan favourite dessert after a good meal, it also brings about immense fun and enjoyment when eaten together with family and friends. This World Ice Cream Day, MAGNOLIA amps up the fun to encourage family celebratory moments with wonderful and exciting deals that promises awesome experiences.
Make family moments more meaningful by repurposing ice cream tubs
Who says the fun must end when the tub is empty? Beyond just indulging in the ice cream, make family moments fun by re-purposing the empty ice cream tubs together, once they are finished. Turn the empty ice cream tubs into sewing kits, organisers, piggy banks, or tissue box holders – the possibilities are endless. To learn about the various ways to re-purpose, MAGNOLIA is now giving ice cream lovers an opportunity to attend an up-cycling workshop.
Running from now to 19 August 2022, simply spend S$10 on MAGNOLIA ice cream to redeem a FREE up-cycling workshop worth S$40 per pax by Green Sproutz Singapore (limited to 100 pax, first come first serve), and a chance to win family outings Night Safari tickets for a family of four in a lucky draw contest (limited to eight sets).
Participating products include MAGNOLIA's 1.5L ice cream tubs, specifically the Coconut,
Vanilla, Chocolate, Chocolate Chip, Raspberry Ripple, Tripolitan, Neapolitan, and Tutti Frutti flavours with a Recommended Selling Price (RSP) of S$6.30 a tub; MAGNOLIA Tropical Sling Multipack at a RSP of S$4.80 per pack; and MAGNOLIA's Mag-A-Cone Multipacks, specifically Chocolate & Cookies and Cream, Strawberry & Vanilla, Vanilla & Chocolate and packs at S$8.00 per pack (RSP). MAGNOLIA ice creams are Halal-certified, and are available at all leading supermarkets and hypermarkets.