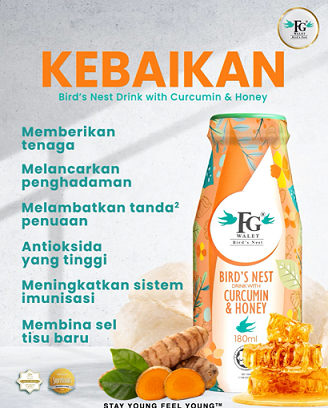 Malaysian bird's nest drink brand FG Walet has just launched a new bird's nest drink with curcumin and honey. FG Walet, founded by Datin Hajah Fouziah Gous in 2013, is one of the leading bird's nest drink that has a strong following among the Malay community in Malaysia.
The addition of curcumin, which traditionally has a strong taste profile, adds more nutrition into the bird's nest drink. Curcumin is known as for its antioxidant and anti-inflammatory properties and is high in vitamins and minerals.
FG Walet has in recent months expanded its distribution into 7-Eleven outlets making available two SKUs – honey and kurma and honey available through the country's biggest convenience store chain.