16 August 2022 – McThai Co.,Ltd, an operator of Quick Service Restaurant (QSR) under McDonald's brand in Thailand, appoints a new female CEO with a strong marketing background. Aiming for more than 20% growth and becoming the most loved quick service restaurant, the new CEO announced key business strategies for the second half of the year in order to move McDonald's brand forward and win in QSR business with the focus on Food Quality and Safety, Value for Money, Modern Customer Experience and Digital Technology
From marketing consultant to the first woman CEO of McThai
McThai Co.,Ltd appoints a new female CEO who has gained over 25 years of marketing experience in Thailand. The new CEO has bonded with the McDonald's brand for years. Starting when she was working with Khun Dej Bulsook, founder of McDonald's in Thailand. She used to lead the advertising agency and worked as a marketing advisor for more than 7 years before earning the new title. She hopes to successfully spearhead McDonald's to become the leading international QSR in Thailand.
2020 -2021: Years of Turning Crisis into Opportunity
Changing business strategy with digital exploitation and coping with consumer changing lifestyle 
COVID-19 is a tough test for all brands. Ms. Kittiwan Anuwatesakul, new Chief Executive Officer, McThai Co.,Ltd. reveals that the restaurant industry value in 2021 in Thailand was 360,000 Million Baht, decreasing 11% from the year before at 404,000 Million Baht*. The decrease was due to the COVID-19 situation with limitations from (government) measures and the decline of consumer purchasing power. Though there were many challenges and limitations, McDonald's business has been picking up with continuous growth in the first half of this year.
Key factors driving our brand during the crisis include:
The growth of the 3Ds: Delivery, Drive-thru and Digital that enabled us to offer more convenient services such as delivery and drive-thru services to customers especially during the COVID-19 situation. In 2021, McDonald's had gained the highest growth in delivery service at 232% and drive-thru service at 34% when comparing to 2019, the year before COVID-19 pandemic. We have also engaged digital technology along with in-depth customer data to create a new platform for the McDonald's Application to meet customer's new lifestyle and to make the brand more accessible for all.
Creating great tasting menus with value for money so that we are accessible to more customers. The examples are the Extra Value Meal or EVM and the McSaver.
Offering the best customer experience with a new remodeled dine-in design focusing on warm and welcoming tones along with building brand relevancy with all customers.
2022: Year of Success as a leader in QSR
Engaging 4 business strategies to become the most loved Quick Service Restaurant 
1.Committing to Food quality and Food safety: Focusing on McDonald's fundamental value of QSC: Quality of food that meet McDonald's standard, Service that is fast but warm and friendly, and Cleanliness. In terms of Food Quality, we have started to implement a Digital Food Safety system to check and control the quality of food and ensure that it always meets with McDonald's Global Standard. This is the first time in the restaurant business in Thailand to use Cloud technology and IoT (Internet of Things) to collect and analyze the food safety data. And by the end of this year, we plan to implement the digital food safety to all McDonald's restaurants in Thailand.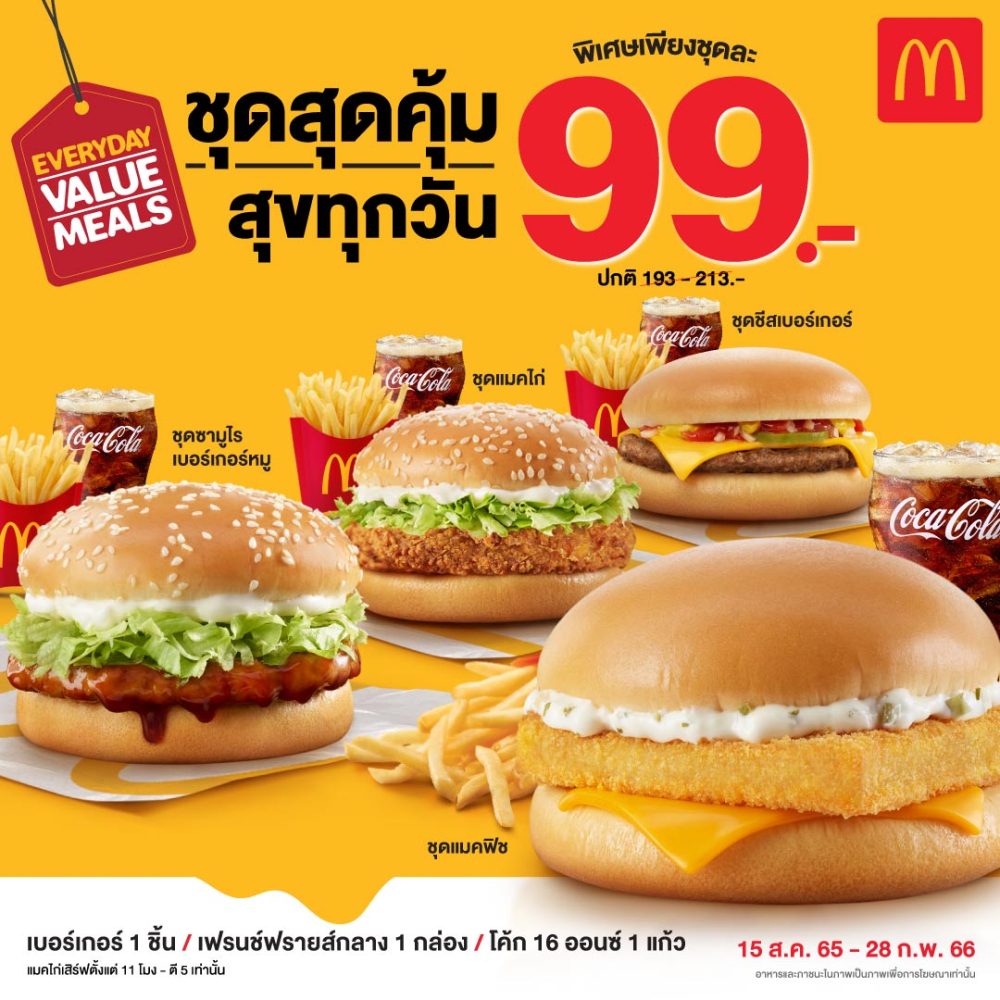 2.Winning with Menu Innovation and Brand Affordability: Innovating high quality and great tasting menus for both core and new menus to be distinct from other brands and being the brand that is Value for Money by offering affordable pricing and attractive promotions. We want to be the brand that acts and the brand that understands consumer's need by offering the solution. This is the purpose of the Everyday Value Meal campaign (EVM 99 Baht) that we have launched since May 2022. Customers can enjoy a burger from the choice of 4 favorite menus that serves with French Fries and Coke with the price only at 99 Baht. The campaign was tremendously successful with the target of getting customers more than 3 times and we have decided to continue this campaign till the end of this year to support the customer's need and emphasize the brand affordability with value for money offers.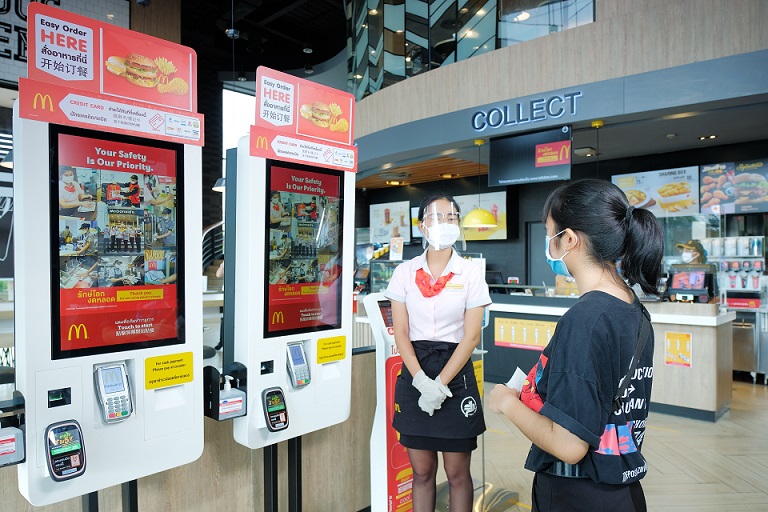 3.Modernizing Customer Experience with the innovation of EotF (Experience of the Future) making the brand beyond other QSR brands: Customers expect not only a delicious menu, good service and value for money offer, but also the total experience that they receive. We want to be the leading brand that modernizes customer experience and goes beyond other QSR brands. Our EotF innovation includes a Table Service that customers just wait for the food to serve at the table, Guest Experience Leader (GEL) that serves and assists the customer for the best experience, and the use of technology to improve the ordering experience with Self-Ordering Kiosk (SOK) that allows customers to explore and order the food by themselves and Cashless Payment Service. Furthermore, McDonald's has utilized the new store design called 'Alphabet store concept' for the new and renovating stores. The Alphabet design focuses on sustainability and simplicity to make customers feel relaxed and make the brand more accessible. The stores are also equipped with more convenient services such as power plugs, free WiFi and modern designed and clean restrooms.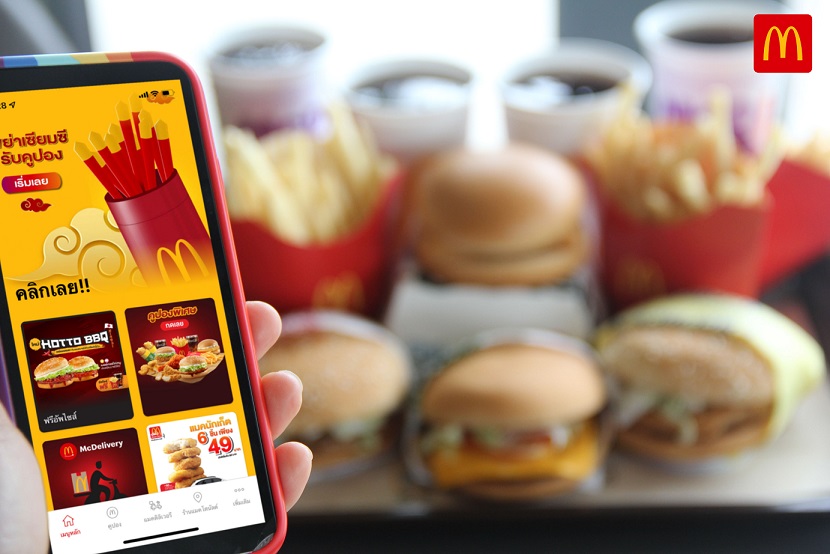 4.Winning on Digital Transformation and Omnichannel Experience: McDonald's continues to grow strong through the 3D platforms (Delivery, Drive-Thru and Digital). Furthermore, with the Omnichannel strategy to provide convenience and meet with a customer changing lifestyle, we have connected all customer platforms such as Dine-in, Take-away, Drive-thru, Delivery and privileges on McDonald's application for the best and seamless customer experience.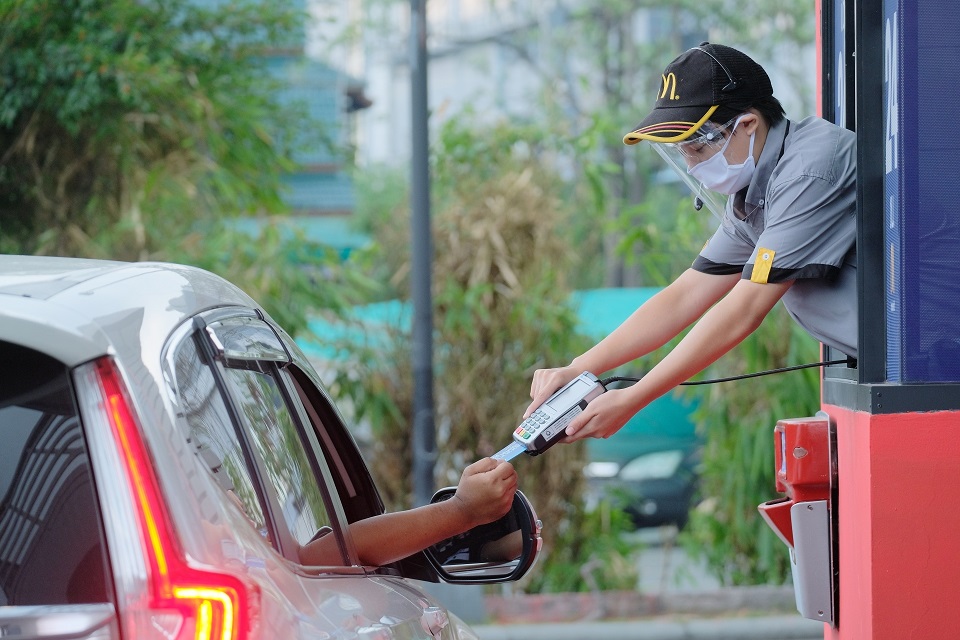 And more than 21 years since 2001, McThai Co.,Ltd has been the main sponsor for Ronald McDonald's House Charities (RMHC) in Thailand. This year, we continue our support to improve the health and well-being of needed children and families through 3 core programs of RMHC; Ronald McDonald's Houses, Ronald McDonald's Playrooms and Ronald McDonald's Care Mobiles
"In this challenging time, we are confident that the effective strategies and the determination will lead us to achieve our business goal of more than 20% growth this year. We continue to move forward with our mission to deliver quality and great tasting food with brand affordability and great customer experience in order to win customer's hearts. And with our commitments, we will be the most loved Quick Service Restaurant among Thai customers," Ms. Kittiwan concluded.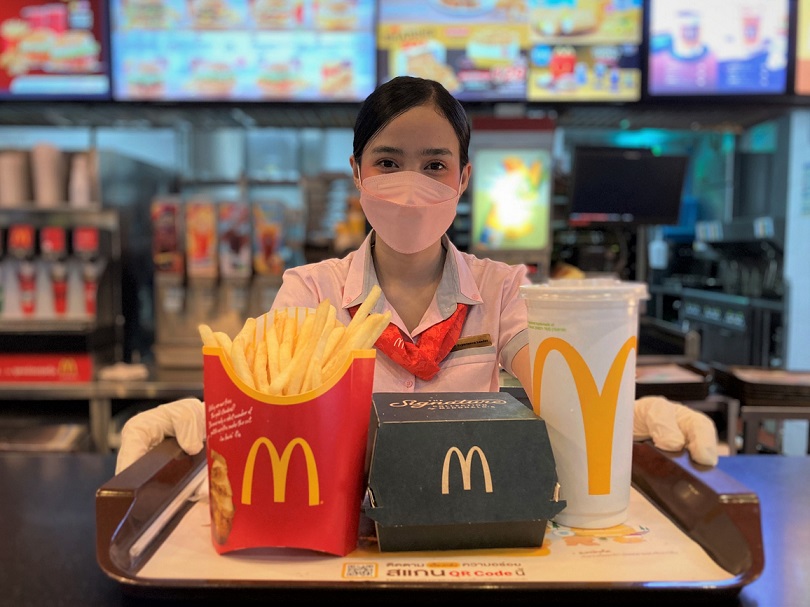 #McDonald#Businessstrategies
#แมคโดนัลด์ #กลยุทธ์ธุรกิจ
*Kasikorn Research Center