Moccona Malaysia collaborated with Y.A.M Khatreena in designing 10 unique ready-to-wear collection for Kuala Lumpur Fashion Week 2022 
KUALA LUMPUR, 22 AUGUST 2022 – Moccona Malaysia, a brand by JACOBS DOUWE EGBERTS RTL SFM MY SDN BHD elevates personalised moments of elegance with renowned local designer, Yang Amat Mulia (YAM) Sharifah Khatreena Nuraniah binti Tuanku Syed Faizuddin Putra Jamalullail of KHATREENA at the recent Kuala Lumpur Fashion Week (KLFW) 2022 with her coffee-inspired ready-to-wear collection.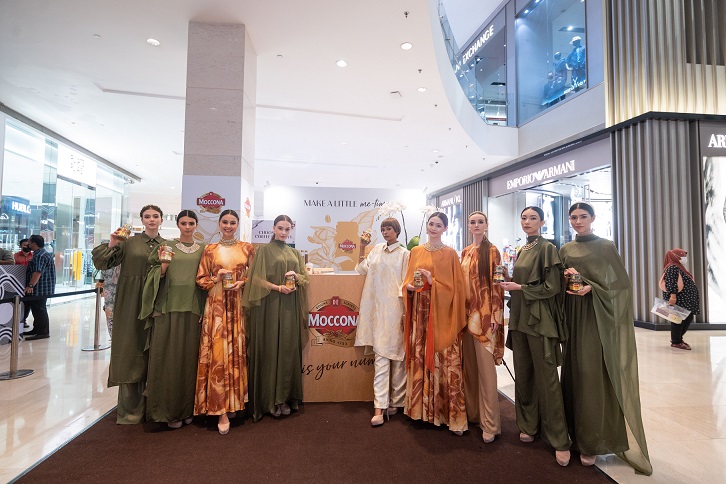 Gracing KLFW's runway for the fifth year, Tengku Khatreena's collaborative collection with KLFW's official coffee sponsor was inspired by the similar aspiration shared between KHATREENA and Moccona in promising moments of elegance for fashion enthusiasts as well as coffee lovers. This elegant event was graced by the presence of Duli Yang Teramat Mulia (DYTM) Tuanku Syed Faizuddin Putra Ibni Tuanku Syed Sirajuddin Jamalullail, Raja Muda of Perlis and Duli Yang Teramat Mulia (DYTM) Tuanku Hajah Lailatul Shahreen Akashah Khalil, Raja Puan Muda Perlis who came in support of Tengku Khatreena, who attributed this inspiring collection to the different coffee intensities from Moccona Coffee.
This year's Moccona-inspired collection was indeed something special where KHATREENA brought up the distinctive nature of coffee in the form of ten eloquent ready-to-wear fashion statements showcased at KLFW during the opening night on Wednesday, 17 August 2022. Flowy fabrics that are soft and simple, yet embellished elegant Moccona tones and personalities are evident in each of the 10 outfits – elevating the sophistication of each piece that any woman can wear as part of their own personal style.
Phoon Shi Fun, Head of Marketing for JDE Coffee Malaysia said that it was indeed a memorable experience to have Tengku Khatreena breathe life into their vision and be able to capture Moccona's elegance in the feminine yet structured designs of the pieces.
"In this collaboration, Moccona has three different variants similar to our varying personalities and moods, with the intensities ranging from number 5', 'number 8' and 'number 10' which caters to an individual's mood and personality of that day. Such a concept is very much similar to what we wear and Moccona's collaboration with KHATREENA is a sentiment that reflects both parties – the diversified variants are similar to the different clothes worn, as each variant contributes to the memories created for the day," said Shi Fun.
"We are very proud of our three variants for it reflects how people like their intensities according to their respective mood; some days we want something stronger, while other days we may want something lighter. Similarly to fashion, our outfits vary according to the day, whether it is to tackle a busy morning or a night out in town with our loved ones as the right outfit plays a part in creating memorable moments."
All in all, KHATREENA's collection echoes Moccona's signature intensities and elegance of the perfect beverage, coupled on comfort, practicality and creating personalised moments.
"Coffee is often seen incorporated into our daily routine in our lives, and we hope that Malaysians can now pair their routine with graceful looks from Tengku Khatreena's designs," concluded Shi Fun.
About Moccona
At Moccona Coffee we aspire to be more than just coffee.  Inspiring everyday moments of pleasure, we enable you to pause and enjoy a moment purely for you. We invite coffee lovers to embrace these small moments immersing themselves in the sensorial experience that Moccona coffee provides. If we take the time to pause and be present, allowing ourselves a little indulgence whilst reconnecting with the world around us, then we will find the beauty in even the simplest things.
For more information on Moccona Malaysia and its collaboration with KHATREENA, please visit:
Website: https://www.moccona.my/
Facebook: https://www.facebook.com/MocconaMalaysia
Instagram: https://www.instagram.com/mocconamalaysia/