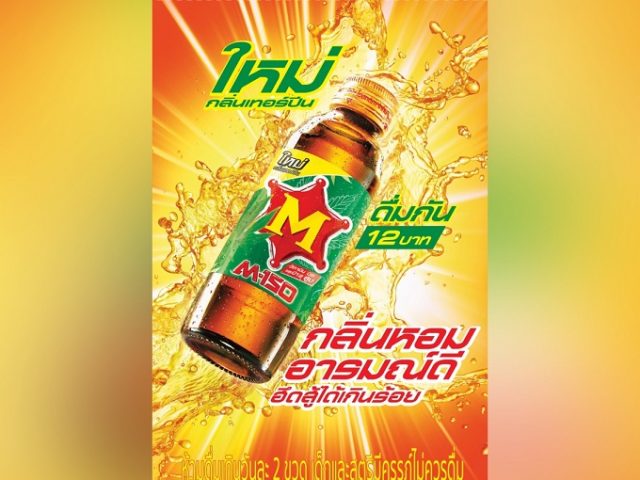 25 July 2022 – 'Osotspa Public Company Limited' or 'OSP,' reinforces its leadership in the energy drink market by expanding the product portfolio and building continuous growth through the flagship brand's herbal variances. The Company recently launched M-150 Terpene Flavor as the first terpene-flavor energy drink in the market. Relieving stress, easing fatigue and boosting positive power, this new product responds to the rising demands of food and beverage with herbal ingredients, health & wellness trend and the lifestyle with increasing challenges and stresses.
Mrs. Wannipa Bhakdibutr, Chief Executive Officer of Osotspa Plc., a leading Thailand-based consumer product manufacturer and distributor, revealed that the herbal food and beverage market has a significant growth prospect. Osotspa's herb-infused beverage products have received good feedback. Therefore, Osotspa has focused on developing herbal beverages that are in response to consumer demands and different from other products in the market. Through research and market assessment, the Company found that beverages containing herbs that help relieve stress during work are an interesting business opportunity. The market has the potential to grow four times in size over the next three years. Therefore, Osotspa is ready to tap into the market with its flagship brand, launching 'M-150 Terpene Flavor', the first energy drink with terpene flavor in the market, targeting male blue-collar workers aged between 20-49 years.
"Consumers' behavior has changed after the Covid-19 outbreak. Herbal product consumption has surged. The consumer stress level has risen, especially among blue-collar workers who are the key customer group of energy drinks. The M-150 Black Galingale with Honey formula has received good feedback. Therefore, Osotspa is confident and ready to let our flagship brand, M-150, tap into the herbal energy drink market. The Company believes that the properties of refreshing and reducing stress of the M-150 Terpene Flavor will perfectly meet the needs of existing customers and help the brand gain greater access to a new group of customers, as a number of consumers are looking for a stress reliever," said Mrs. Wannipa.
M-150 Terpene Flavor is the first terpene-flavored energy drink in Thailand. Its property of relieving stress serves the need of the consumers who are worn out from work and have negative emotions. It brings back positive energy, good mood, vigor, freshness and fighting spirit to overcome all work challenges. It also boosts brainpower with vitamin B6 and B12. The product is available in a  150 ml package at department stores and shops at 12 baht per bottle.
The marketing strategy will focus on building awareness through offline and online channels. The online platforms include Facebook, YouTube and Twitter. Out-of-home media at 130 locations in Bangkok and other provinces will be used for offline channels. The product's unique features will be promoted via KOLs, while a variety of marketing activities will be leveraged to stimulate product trials.