Julie's Biscuits celebrated their 38th anniversary with an exciting I 'NUT' EMAS contest, the buy and win contest ran from 1st of July 2022 to 15th of August 2022.
Inspired by the Julie's Peanut Butter Sandwich Biscuit's shape and gold-like appearances, the Julie's I 'NUT' EMAS contest is a playful homophonous to the Bahasa Malaysia term 'I WANT GOLD'. The brand incorporates the word 'nut' from 'peanut' and 'want' ('nak' in Bahasa Malaysia) into a tagline that many Malaysians can recognise the pun.
Consumers across nationwide were invited to participate in the Julie's I 'NUT' EMAS contest, where RM100,000 prizes were up for grab. The prizes included the Grand Prize of a Julie's Gold Coin (100gsm of 999 gold) for the luckiest winner, First Prize of Julie's Gold Bar (10gsm of 999 gold) for 10 winners. There were also weekly prizes of RM85 Touch 'N Go e-Wallet credit for 66 winners every week throughout the 6-week contest period.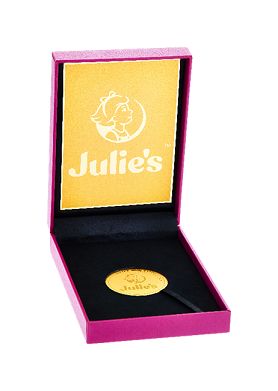 The 100gsm Julie's Gold Coin, is a customised limited edition specially created for I 'Nut' Emas contest, made with 999.9 fine gold and weight 100gsm.
The winner of Grand Prize belonged to the luckiest winner, Lai Kah Wah, said, "This is my first-time participating in a buy and win contest, I am so blessed and happy that I am able to win the Grand Prize which is a 100gsm Julie's Gold Coin! My family and I truly love Julie's products, thank you Julie's Biscuits for the Grand Prize!"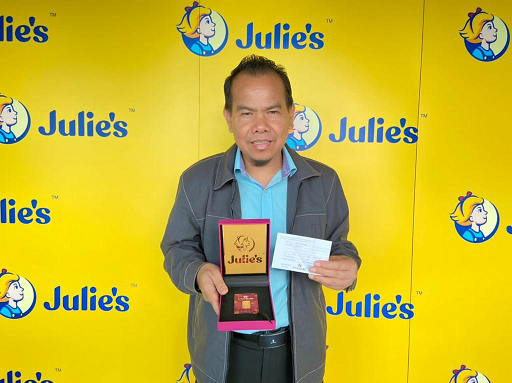 After multiple submission attempts to win the weekly prizes, Md Fuzi Bin Abd Lateh has won one of the First Prize instead. He responded, "Julie's is a really good product, you should try it too tau! This gold prize with Julie's brand will be a meaningful token for me to keep and pass over to my future generations"
Tzy Horng Sai, Director of Julie's Biscuits, said "Our biscuits have more than stood the test of time, with 38 years in the market locally and internationally, thus in conjunction of the anniversary celebration we believe that the prizes will have to be as irresistible as our Peanut Butter Sandwich."
"We're excited to see the high participation and responses to I "Nut" Emas by our Malaysian consumers. This golden opportunity has been celebrated by more than 396 cash prizes winners and 11 gold prizes winners, we believe in continuing to reward our consumers with great products and connecting with them through our brand movements."