Mountain Dew announced it has introduced a smaller 400ml pack in Malaysia at a price of RM 1.50 (USD 0.375). The objective of having it in reduced packaging is to make Mountain Dew more affordable with an eventual goal of selling less in volume but higher in value. This is the same approach used by Coca-Cola and Pepsi through their smaller 425ml pack size selling at RM 1.00 per bottle.
Here are the current prices of 500ml Mountain Dew Lemon:
7-Eleven: RM 2.65
Giant: RM 2.24
Petron: RM 2.20
99 Speedmart: RM 1.80
Sundry shop: RM 1.80 – RM 2.00
However, I have been searching high and low for the 400ml pack. It has eluded me. Hope readers out there can let me know where to find the 400ml Mountain Dew.
In another development, Mountain Dew has just completed its 'Label Design' contest. Here are the winning entries: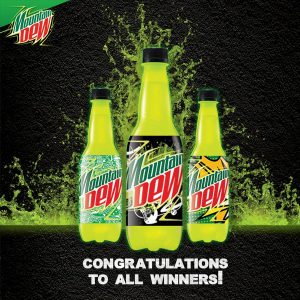 400ml selling at Aeon Big, Mid Valley
This was spotted in early November 2016 at Aeon Big, Mid Valley.