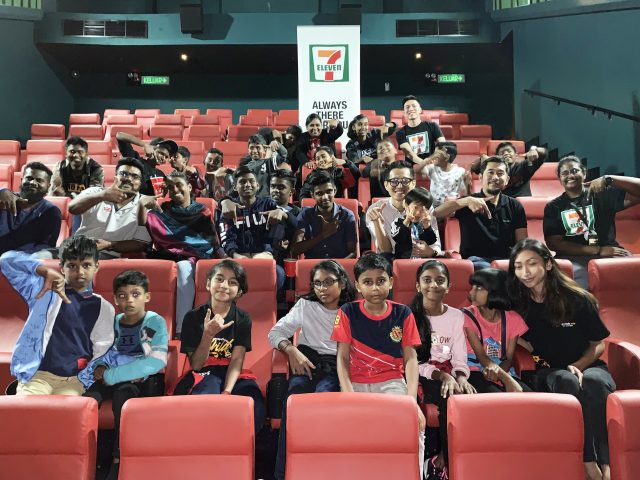 Cheras, 23 December 2019 – In the spirit of Christmas festivities, 7-Eleven Malaysia with its start-up, NGOHub Asia recently carried out a CSR activity by bringing the children from Pertubuhan Rumah Kebajikan Chrestus Cheras (Rumah Chrestus) out for a special Christmas movie treat, Frozen II at a nearby cinema.
Established 18 years ago in 2001, Rumah Chrestus is a non-profit organization dedicated to restoring the lives of children aged 2 to 18 years old who are orphaned, abused, neglected or underprivileged. Starting out as a community service under the care of the Christ Lutheran Congregation, the shelter – with a total of 15 children – provides education and trainings for them to be self-sufficient for their future. It is currently managed by Pastor Jeffrey Solomon and the Chief Warden of Rumah Chrestus, Elvis.
The fun movie outing started out in the morning with a briefing and introduction of the volunteers to the children. They queued and tried to contain their excitement of watching Frozen II, one of the most anticipated Disney animated films of the year and sequel to the breakout hit, Frozen from 2013. The 90-minute movie experience was made complete with sweet caramel popcorn and cool beverages. After the movie, the children were treated to a scrumptious lunch provided by a catering service back at Rumah Chrestus. The children were all given Christmas presents which included snacks and stationaries for school before bidding farewell to the volunteers.
Ronan Lee, 7-Eleven Malaysia General Manager of Marketing said, "We wanted to spread festive joy and share the excitement of witnessing the popular Frozen II in cinemas with their loved ones during the school holidays and festive period. Furthermore, as a family-oriented film that boasts many moral lessons such as the power of unity and teamwork in the face of challenges and caring for the environment, we believe the children and even the caretakers, enjoyed the movie and had a jolly great time!"
Rumah Chrestus is currently operating on a rented space and hopes to have its own building on a vacant land in Taman Cuepacs in the future. Interested party who wish to help may contact at 03-9076 1849 for more details.
About 7-Eleven Malaysia
7-Eleven Malaysia Holdings Berhad through its subsidiary 7-Eleven Malaysia Sdn. Bhd. is the owner and operator of 7-Eleven stores in Malaysia. Incorporated on 4 June 1984, 7-Eleven Malaysia has made its mark in the retailing scene and have been a prominent icon for over 35 years. 7-Eleven Malaysia is the pioneer and largest 24-hour standalone convenience store operator in Malaysia with over 2,370 outlets nationwide and serves close to 1 million customers daily. 7-Eleven stores can be found across bustling commercial districts to serene suburban residential compounds throughout Malaysia, from petrol stations and LRT stations to shopping malls and medical institutions. 7-Eleven is Always There For You.