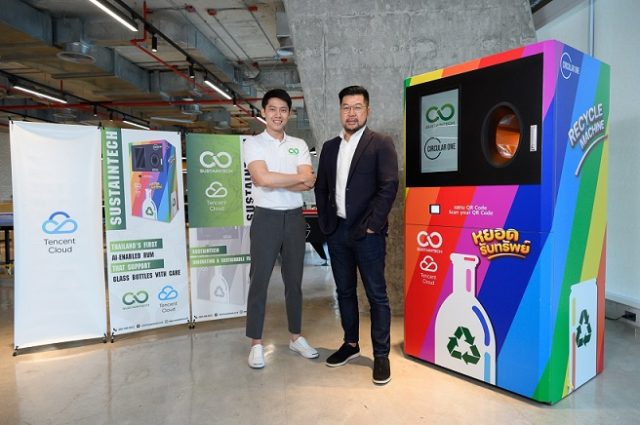 SUSTAINTECH, a sustainable tech startup, announces the launch of "CircularOne", Thailand's first AI-Enabled Reverse Vending Machine (RVM) innovated by the Thai people.
The CircularOne machine leverages different cloud and AI technologies from Tencent Cloud – the cloud business of global technology company Tencent to handle and store glass bottles in their perfect condition for autonomous reuse or reversed vending to check the material quality and to sort all deposited containers that range from PET bottles, aluminium cans and "glass bottles".
The solutions from Tencent Cloud allow CircularOne to operate more precisely and ensures effective recycling, reuse, and return to the system in response to the Circular Economy trend as well as the need to alleviate waste-management issues, make people's lives better and solve the global warming crisis.
Chirawat Tangkitchaiwat, Founder and CEO of SUSTAINTECH, said "The world today is facing air and natural resource crisis, a result of manufacturing, consuming, and managing misbehaviours that subsequently, lead to increased pollution and greenhouse gas. According to data from the World Bank Group (Market study for Thailand: Plastics circularity opportunities and barriers) Thailand ranked sixth among countries responsible for plastic leakage into marine environments."
The country only recycled 616,000 tons — an equivalent to only 17.6 per cent — of the 3.49 million tons of plastics it consumed yearly. With that being said, it is paramount to create a Circular Economy system to alleviate waste management issues, improve people's quality of life and help with the global warming crisis.
Consequently, the company has developed CircularOne to sort beverage containers in order to reduce the volume of containers to be recreated and promote reuse.
CircularOne is also SUSTAINTECH's first Reversed Vending Machine that enables used bottles to be automatically reused and recycled. The deposit machine accepts PET bottles, aluminium cans and 'glass bottles and is the first of its kind from SUSTAINTECH in Thailand.
SUSTAINTECH is considered the first company to have invented and developed an automatically used container the deposit machine that is able to handle glass bottles in their original condition. The machine also incorporates cloud-AI solutions from Tencent Cloud in response to the rising demand for used container storage and sorting technology. The machine also has its own container-sorting as well as quality-checking systems.
With the use of CircularOne, SUSTAINTECH is also determined to promote Circular Economy engagement among all parties from operators of the beverage business, container business, recycling business, real estate business, and garbage collectors to consumers as a means to enhance the efficiency of waste management for the sustainable future.
Chang Foo, Chief Operating Officer of Tencent (Thailand) Co., Ltd., expressed that "Tencent Cloud is pleased to be part of an effort to improve the management and return of waste into the system through the recycling process. Tencent Cloud's solutions work together to categorize used bottles and enhance the operation and precision of CircularOne."
Apart from sorting used containers, such solutions can also detect and eject broken or damaged glass bottles and send notifications which consume less time and make the sorting process more effective.
"The collaboration is a significant milestone that reflects Tencent Cloud's determination to support Thai businesses of all sizes from various industries through over 400 diversified cloud solutions that respond to different needs. By combining our extensive industry expertise with our infrastructure strength, which includes two data centres in Thailand, the company will continue to develop solutions in response to various stakeholder requirements and become a driving force in making the circular economy principle a reality."