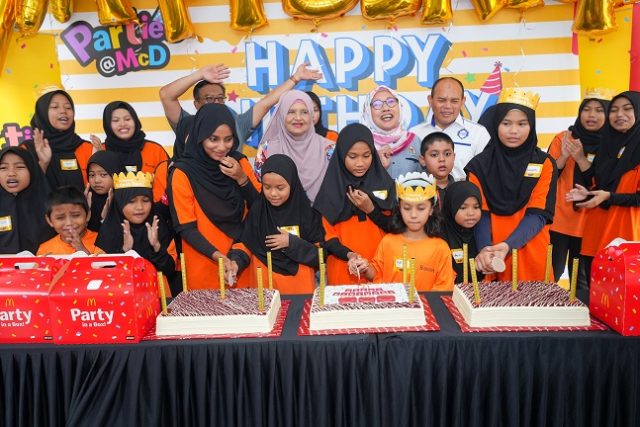 McDonald's Community Month initiative and RMHC throw birthday parties for 12,000
orphans at 400 welfare homes nationwide
Kuala Lumpur, 2 October 2022 – McDonald's Malaysia and the Ronald McDonald House
Charities (RMHC) Malaysia have collaborated to strengthen their commitment in creating a
positive impact among the community through its McDonald's Community Month programme which focuses on the welfare and well-being of children. Held during the entire month of October, McDonald's Community Month is part of the ongoing Community McD & RMHC program, which is the main initiative for all community efforts undertaken by McDonald's Malaysia and RMHC Malaysia annually.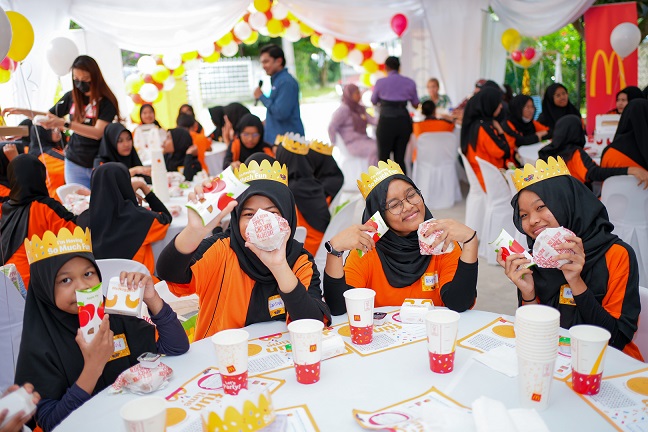 For this year's McDonald's Community Month, RMHC Malaysia will donate new mattresses and pillow sets worth RM275,000 to 20 children welfare homes nationwide. Kicking off with a visit to Pertubuhan Rahoma Darul Fakir in Kuala Lumpur, McDonald's crew members from over 300 restaurants will be mobilized to visit and bring cheer to 12,000 orphans in 400 charity homes by organising McDonald's birthday parties.'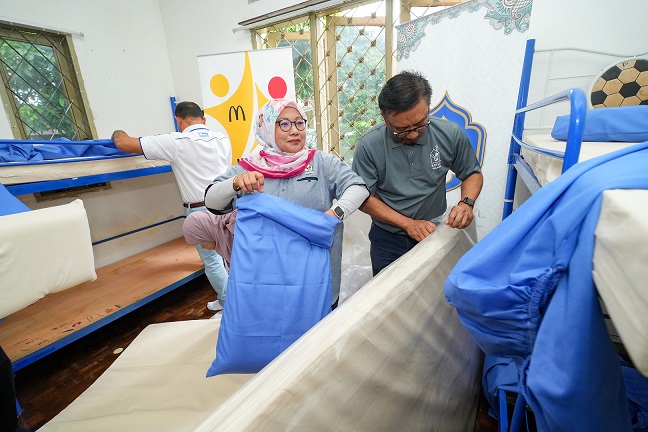 "It has become second nature for us at McDonald's to support orphans and those in need,
especially the communities in the locations where we operate. Together with RMHC Malaysia, it makes the implementation of such community outreach efforts even more meaningful as RMHC Malaysia is dedicated towards to supporting the welfare and well-being of underprivileged children," said Shamsidar Yahya, Director of Corporate Communications, McDonald's Malaysia.
"A Birthday party means a great deal to these children. Their excitement and laughter touch us deeply every time we celebrate these moments together. Organising McDonald's birthday parties at charity homes displays the care we have for these children, since birthdays are the most meaningful and special moment of a person's life. That is why we are determined to make this celebration an annual event, and as long as it is welcomed, we will continue the joint effort for the welfare of these children," added Shamsidar.
Both Shamsidar and Nasri Nordin, General Manager for RMHC Malaysia presented the new
mattresses and pillow sets to Pertubuhan Rahoma Darul Fakir Kuala Lumpur.
"We are very grateful to have McDonald's and RMHC visit us. We have not received many visits like this for a long time, especially those combined with a massive birthday party, which is indeed a rare occasion. The children here are extremely excited and happy, and I am very moved to see the smiles etched on their faces. The new mattresses and pillow sets are very welcomed as they can provide comfort for the children after a tiring day of activities," said Dato' Faridah Haji Omar, President of Pertubuhan Rahoma Darul Fakir Kuala Lumpur.'
McDonald's Malaysia and RMHC Malaysia are committed to reaching out to as many people in need as possible throughout Malaysia. Through the @McD & RMHC Community Programme, it is estimated that more than 7,000 community activities will be carried out annually involving its employees across the country.'