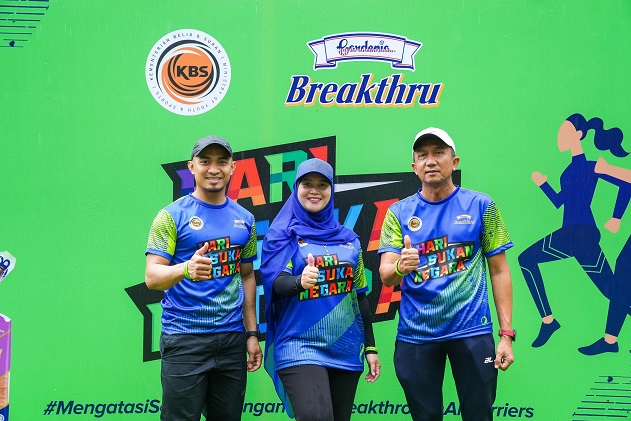 Gardenia imbuing a healthy lifestyle amongst Malaysians through the Gardenia Breakthru Funwalk
KUALA LUMPUR 9 OCTOBER 2022  –  Gardenia Bakeries (KL) Sdn. Bhd. today organised a fun walk in conjunction with the National Sports Day 2022. The Gardenia Breakthru Funwalk was officiated by Mr. Mohd Azhari Bin Mohammad, Director General of National Youth and Sports Department , witnessed by Ena Suhaila Abas, the Marketing Manager of Gardenia Bakeries (KL) Sdn. Bhd., and the brand ambassador for Gardenia Breakthru, Dato' Azizul Awang. The fun walk gained an overwhelming response from consumers across Peninsular Malaysia.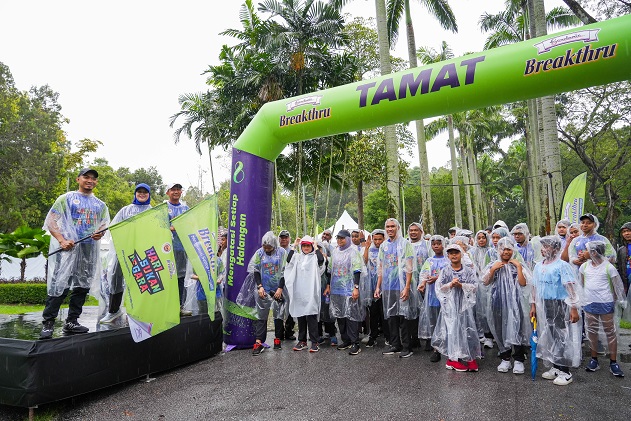 "Now that we are able to hold healthy outdoor activities such as this, the continuous support we gain from fellow Malaysians is just profound. The energy and enthusiasm are what bring all Malaysians closer together. Keluarga Malaysia has come together to strive towards a healthier nation," said Mohd Azhari.
Apart from the main fun walk, the fun filled event was packed with ongoing activities including aerobics, Zumba, Jazzercise, and Tabata throughout the event, catered to those who are more into dance workout. According to Ena, the main goal of the event is to encourage participants to move in order to maintain a healthy lifestyle regardless of their exercise preference. Gardenia strives to call out to Malaysians from all walks of lives to together embark on the journey of a healthy lifestyle involving physical activities.
The Gardenia Breakthru Funwalk began with an aerobic exercise to warm up the muscles. The two kilometres fun walk then kickstarted at 8:30 am with a flagoff released by Mr. Mohd Azhari, alongside Dato' Azizul and Ena. The walk ended at 10.00am and participants received a Gardenia Breakthru loaf at the end of the course. Not only that, a Gardenia Breakthru Funwalk jersey and a Gardenia Breakthru drawstring bag were already given upon event registration. The fun does not end there, a Lucky Draw session was also included in the agenda where participants were surprised with awesome prizes including Garmin Venu SQ Watch; an air fryer; a pair of yoga mats and ten sets of premium Gardenia Breakthru goodie bags.
"Due to the unexpected response gained for the Gardenia Breakthru Funwalk this year, we at Gardenia are hoping to work closely with the Ministry of Youth and Sports to plan more prodigious events for the National Sports Day in years to come. It is also in line with Gardenia's effort in forming a healthier society for the future of a better nation," added Ena.
The Gardenia Breakthru series involves the two grain breads which are the Whole Wheat Bread and the Wholemeal Bread with Canadian Purple Wheat. These two have been recognised as the most healthy options in Gardenia's line of breads and have been selected as the perfect choice for those who decide to break through their eating habits towards a better option. The Breakthru series appeals with its nutritional value, introduced as the 8CTIVE™. The 8CTIVE™ consists of eight best features a bread could offer including high in Vitamin E, high in Vitamin A, no cholesterol, source of fibre, low in fat, high in protein, no trans fat and finally, high in iron. The Breakthru series are packed with nutritional goodness. The bread series is freshly made and is widely available for consumers throughout Peninsular Malaysia at a reasonable price.