Epic 10 Contest is part of Lazada's continuous efforts to engage with the local MSMEs
Two Grand Prize winners brought home a special-edition Vespa Primavera S150 each
KUALA LUMPUR, 18 October 2022 – The Lazada's Epic 10 Contest recently concluded with two Grand Prize winners riding home a special-edition Vespa Primavera S150 respectively, with other one hundred Malaysian sellers winning consolation prizes. More than 2,000 local sellers participated in the Lazada Epic 10 Contest that incentivizes sellers to grow their business by increasing their online store's assortments and engaging more customers.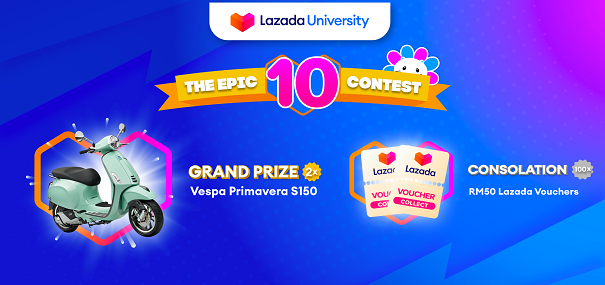 Held between 25 April to 30 September 2022, the contest was an exciting and engaging way for eligible local Lazada Marketplace sellers to upgrade their e-stores through a series of tasks, including decorating their store using the Store Builder tools, utilizing Lorikeet for their product descriptions, uploading at least ten new products to grow their assortment, as well as actively engage their customer base in order to increase their content score to at least 90% ahead of the upcoming Mega Campaigns season.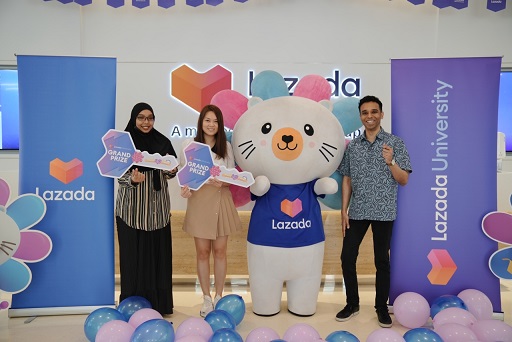 "We are heartened by the tremendous efforts that thousands of local sellers have poured into our Epic 10 Contest, and the outcomes they have achieved as a result. Engagement activities such as this is one of the ways to encourage our sellers to optimize the seller tools available on Lazada, so that they can easily upgrade their online store and engage more customers to boost sales. For both new and existing sellers, our team is here to support them with hands-on guidance. Lazada would like to welcome more local sellers and MSMEs to join us and kickstart their digital journey," says Darren Rajaratnam, Chief Operating Officer, Lazada Malaysia.
The Grand Prize winners, Aisha Mohamad Ibrahim of Tudung Viral 01 online store and Tan Ee Vian, owner of BeautéRider online store celebrated their win at the Lazada Visitor Center. "I was so excited to find out that I'm one of the Grand Prize winners. My husband and I co-manage our e-store and this contest made the tasks of upgrading our online store into something fun," said Aisha. Tan Ee Vian added, "The guidance, support and tools provided by the team under Lazada University were some of the key factors that helped me to be a better seller and improve my online business. This contest was unique and I'm glad that I took a chance to enter, and now I get to bring home my own Vespa."
As an added reward, the Grand Prize winners were presented tickets to Masterclass #8 Edition that will be conducted on 26 October 2022. Organised by Lazada University, Masterclass #8 Edition will focus on empowering the sellers with valuable know-how on getting ready for the upcoming Mega Campaigns, in particular 11.11 and 12.12. Participants will learn more tips and tricks on how they can reinforce their online store, master powerful traffic boosters such as Free Shipping, LazCoins, Lazada Sponsored Solutions, Flexi Combo and Add-on Deals, maximize profitability through pricing strategy and high volume orders, as well as learn from other sellers' success stories, industry experts and Lazada Certified Trainers. Masterclass #8 tickets are available online from now until 25 October 2022 for all Lazada sellers.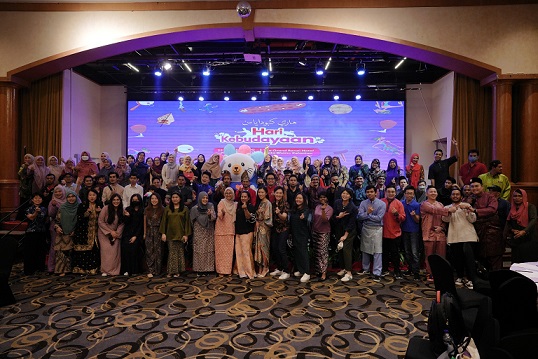 Throughout the year, Lazada has continuously engage sellers face-to-face in various activities across the country, including the recent engagements in Kelantan and Kedah. In September, more than 500 existing sellers and potential new sellers participated in the 'Teh Tarik Session', as well as 'Malam Kebudayaan' and 'Hari Kebudayaan'  thematic seller celebration events, organised by Lazada University and Seller Engagement team.
Lazada sellers are a valuable and instrumental part of the eCommerce ecosystem, especially as the affordable range of assortments that they sell on the platform means that more customers would be able to get value-for-money products in various categories. Lazada will continue to  empower local MSMEs in digitalising their business under the Hari-Harimau (HHM) New Seller Kickstarter Package through various initiatives, including Sapot Lokal, DE Dagang – Jualan Murah Keluarga Malaysia, Kempen Beli Barangan Buatan Malaysia. HHM was introduced in February 2022, and by now, more than 45,000 Malaysian sellers have been onboarded under HHM on Lazada's marketplace.For further information on Masterclass #8 and to purchase the ticket, visit https://university.lazada.com.my/cms/mc8. Masterclass tickets are selling out fast, so hurry up and book your spot today.