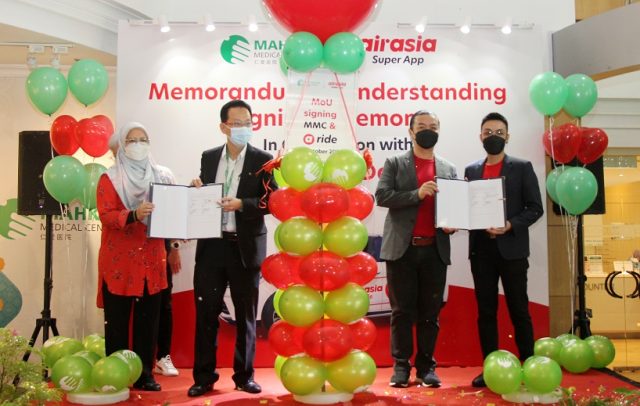 In addition, airasia ride drivers and AirAsia staff are supported with healthcare benefits to ensure they remain healthy and safe on the road
MELAKA, 18 OCTOBER 2022 – Mahkota Medical Centre (MMC), one of the largest and most comprehensive tertiary private hospitals in Southern Peninsular Malaysia, proudly announces its first partnership with airasia ride (AAR).
As one of Malaysia's top medical tourism hospitals, MMC sees approximately 95,000 international patients annually and expects this number to rise. Most recently, the hospital has been lauded as the Medical Tourism Hospital of the Year in Asia Pacific 2022 by the GlobalHealth Asia-Pacific Awards. As part of its commitment to uphold this standard, MMC is collaborating with AAR to offer discounted airport rides. New AAR users are entitled to RM3 off when booking a ride to MMC from any pick-up point in Melaka using the MMCRIDE promo code. Both existing and new AAR users can redeem the promo code MMCAIRPORT to get RM10 off a ride from KLIA/KLIA2 to MMC and vice versa.
This partnership also extends 30 AAR drivers each, a complimentary heart check-up at MMC from 29th September until 31st October. The first 100 Captain AAR drivers will receive a free blood screening worth RM300. A total of 100 First Officers and Cadet AAR drivers may purchase a Basic Blood Profile (includes diabetes screening, liver function test, blood count analysis etc.) at a discounted price of RM99. This MoU also offers the first 100 AirAsia staff, a cash rebate of RM200 on MMC's Wellness or Premier Health Screening Packages.
Stanley Lam, CEO of Mahkota Medical Centre, shared, "At MMC, our vision is to be the most reputable referral hospital in South-East Asia. Today's partnership with AAR will further solidify our goal to ensure international patients are supported throughout their journey to seek healthcare services. We also hope that the health screening packages offered to AAR drivers and AirAsia staff will help spur health awareness and conversations.
Lim Chiew Shan, Regional CEO of airasia ride, said, "We are proud to announce this partnership with MMC to provide health benefits to our ride-hailing drivers. As an e-hailing provider, drivers are essentially the most crucial part of the operations. We always prioritise our drivers' health and well-being as we believe that our drivers will provide the best quality and safest service to our customers if they are physically and mentally healthy.
"We are extremely thankful to MMC for offering AAR driver partners and AirAsia staff these health benefits. We hope our drivers will take this opportunity to have regular health check-ups to stay in excellent condition on the road."