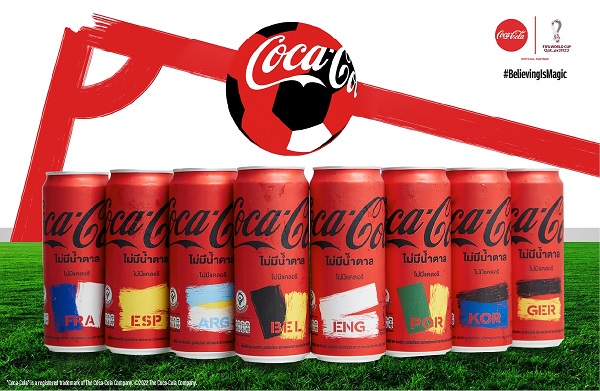 Bangkok, Wednesday 19 October 2022 – The wait is over! Soccer fans who are unable to join the upcoming FIFA World Cup Qatar 2022 can still celebrate with the rest of the world as Coca-Cola releases limited Coke can designs in original taste and zero sugar variant in Thailand. The special edition Coca-Cola cans is part of the brand's commitment to bring the magic of the sport closer to fans.
The exclusive designs of Coca-Cola for this year's tournament highlight the team colors; and will be on displayed not only on the packaging but across the brand's digital content as well. All designs carry the authentic Coca-Cola white, red and black colors; the FIFA World Cup Official Emblem; the Coca-Cola football visual; and the soccer pitch graphic. The beverage brand has also integrated brush strokes – reminiscent of face paint of the flags of famous teams – to represent pitch markings and other elements, bringing the football game and its fandom into the over-all look. Since 2018, the visual identity for football has remained consistent and only evolves to capture the magic of the tournament while retaining the fundamentals.
Coke FIFA limited edition, for both original taste and zero sugar in PET and Cans, are available in convenience and leading department stores nationwide starting October onward. QR code on pack will take consumers through FIFA Fanzone, a special site that provide exclusive contents – gamifications, share your promises and connecting the fans from all over the world. Avid soccer fans can start preparing their homes as early as now and turn them into their very own stadium once FIFA World Cup 2022 kicks off next month.
Keep following Coca-Cola on Facebook, Instagram, and Twitter as we share more fan-focused content leading up to the official tournament in November. Learn more about Coca-Cola by visiting www.coca-cola.co.th