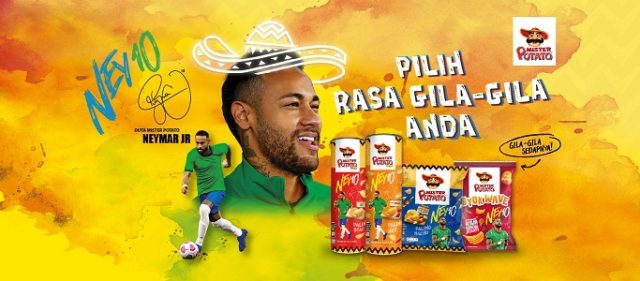 MAMEE-Double Decker (M) Sdn Bhd's Mister Potato has introduced two new limited edition flavours BBQ Kebab and Hot Salsa as part of its latest campaign. The two flavours will add a touch of Brazilian spice to the brand's wide range of products.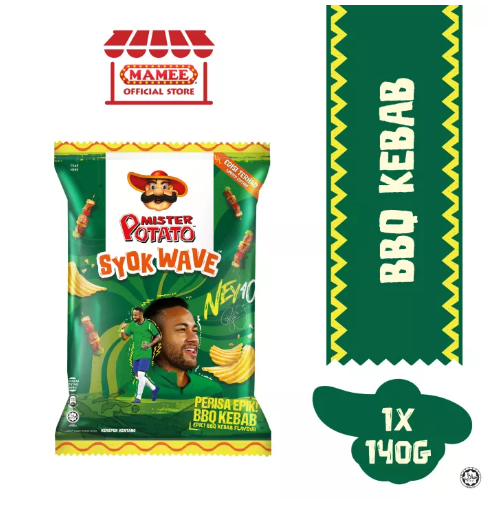 Mister Potato has recruited football legend Neymar da Silva Santos Júnior to endorse its snacks. NR Sports is the company which manages the football superstar's image.
Neymar Jr, as he is popularly referred to, is considered one of this generation's most talented footballers. The Brazilian has been named South American Footballer of The Year twice and his transfer to Paris Saint-Germain in 2017 helped his team win 13 titles such as the Ligue 1 four times and the French Cup three times. The football star has a huge following with 179 million followers on Instagram and has a non-profit organisation – the Instituto Projeto Neymar Jr, a social project which works to help children, young people and their families in Brazil.
This new partnership – Mister Potato x NR Sports – is the next phase of Mister Potato's 30th anniversary celebration and collaboration with celebrities, where the first phase started earlier this year. This campaign introduces "The Ridiculous Kick" theme and will run for a year with Neymar Jr as its key feature.
The Mister Potato range includes Mister Potato Crisps and Mister Potato Chips. Both Mister Potato crisps, and chips are made from imported potatoes and are cholesterol-free. The brand's products are sold in canisters and bags. The flavour variants available are:
Mister Potato Crisps – Original, Hot and Spicy, Sour Cream and Onion, Tomato, Barbeque and Honey Cheese, Sweet Potato, Sweet Potato Corn;
Mister Potato Chips – Original, Hot & Spicy, Barbeque, Tomato, and Honey Cheese
Football fans can look forward to the chance to win a trip to Qatar, PUMA merchandise and cash prizes worth more than RM138,000. The Snek & Menang Contest runs from 1 October to 27 November 2022. To qualify for the contest, consumers will need to make a minimum purchase of RM10 of Mister Potato products, write their name and IC number on the receipt and send it via WhatsApp to +601156881139.
One lucky grand prize winner will be able to watch the final football match in Qatar where the grand prize is an expenses-paid trip. Twenty consolation prize winners will each receive RM2,000 cash and PUMA x Neymar Jr products while 200 weekly prize winners will each get RM250 cash. Participating retailers include major supermarkets, hypermarkets, mini-markets, e-commerce, petrol marts and convenience stores nationwide.
Malaysia's top potato chip brand, Mister Potato is the market leader for crisps and chips and is no stranger to global partnerships, having collaborated with Manchester United and Chevrolet, as well as Korean K-pop star Cha Eun-Woo.
Mister Potato's products are available in bag chips as well as canisters and are priced at RM3.20 onwards. They are available at all major supermarkets, hypermarkets, mini-markets, petrol marts and convenience stores nationwide, as well as via MAMEE's official store on Lazada and Shopee.