Raffles Place is home to some of Singapore's most prominent landmark buildings and is known as the country's bustling financial district. The Raffles Place Park, in particular, is an icon and staple amongst those who work in the area. In the daytime, it is a commercial space and business destination where colleagues and friends alike meet during office hours or lunch breaks. At night, Raffles Place transforms into a bold and lively party area for everyone to unwind and relax after a taxing day of work.
In its transition to become the Central "Buzz" district it is today, Raffles Place had undergone a fascinating transformation through the years. Let us take a trip down memory lane as we explore the history of the iconic Raffles Place.
Revisiting Old Raffles Place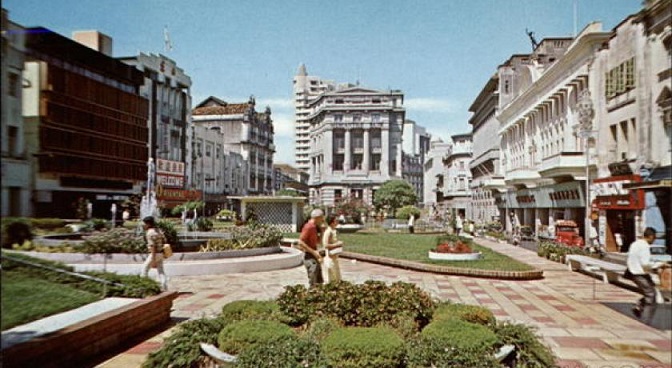 In the 1800s, Raffles Place was originally a reclaimed swamp land before it became a commercial emporium. Since then, the place featured many old and iconic buildings, for instance, banks such as Chartered Bank Chambers and the Bank of China building; department stores such as Robinsons and John Little, and even an underground car park located below the garden square we see today. Within the next 50 years, Raffles Place continued to evolve to fit the changing times, where many modern skyscrapers took over the space in one of the park's biggest transformations.
Experience the Modernity of Raffles Place
Fast forward to today, the heart of the financial centre unveils an inviting vast green space amongst the skyscrapers for city professionals to relax and unwind. It features many flower beds, shrubs and rows of lawns, monumental sculptures and even structures such as swings and tables. But that's not all, Raffles Place Park also presents dynamic events and activities for the public to enjoy.
Enjoy the Newest Structures and Events At The Revamped Raffles Place Park
With the aim of transforming the park and the surrounding public space into a place of excitement, relaxation and play, the Raffles Place Alliance was formed. For instance, last Christmas, Raffles Place Alliance held their first-ever festive celebration – Festive Cheer, whereby ornamental and sculptural festive decor was specially set up to welcome the joyous season. Members of the public were invited to snap pictures alongside these colourful structures and beautiful fairy lights to spread delight amongst the community and create lasting memories altogether.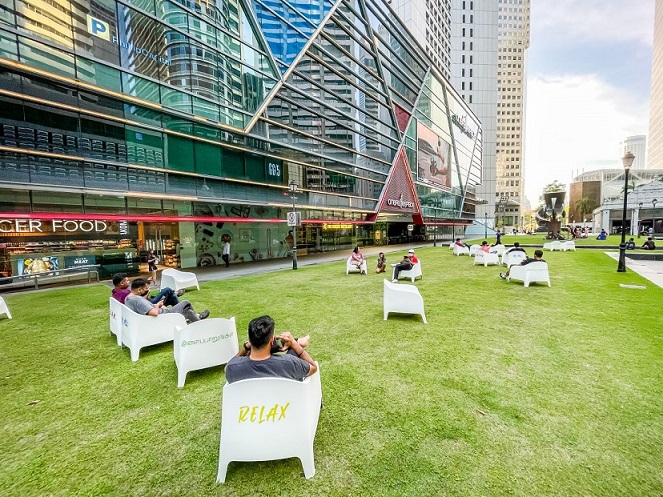 With the launch of #RPchairs in July, the revitalised Raffles Place Park became a sanctuary that offers respite from the hustle and bustle. Over the period of one month, this addition to the park comes in four types of chairs with varying colours, placed in the garden each week. As of now, the armchairs, beanbags and wooden stools made out of upcycled wood have made their appearance. These sources of comfort are portable around the park, so head down to the park, get creative and feel free to arrange them however you like!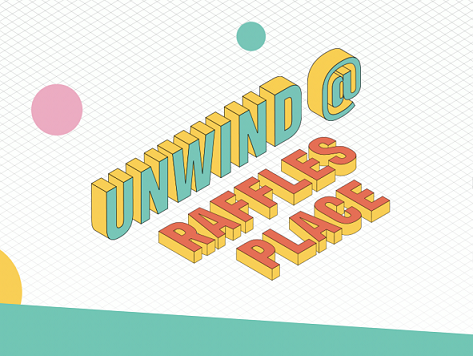 Earlier this September, Raffles Place Alliance also kick-started a project, UNWIND @ Raffles Place – a 3-day event with music and performances by OFFTHECLIFF, Ralph Alvern, Kyung Hoon and more! With many activities held at the park, people from all walks of life were invited to head down, relax and enjoy the live performances and workshops. Free ice cream and beer were also served to the public as they enjoyed the festive atmosphere, as well as sit-in for an outdoor movie screening with their families on one of the nights.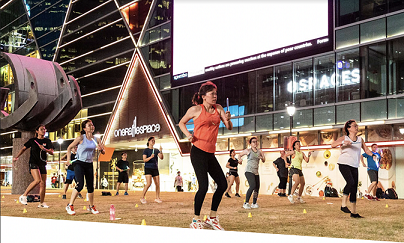 In celebration of World Mental Health Day in October, Raffles Place Alliance had also partnered with several companies for their week-long event – RELEASE @ Raffles Place. For instance, vendors such as Cloop! and Books Beyond Border, along with yoga and dance enthusiasts such as FOCUS and KpopX Fitness. These vendors came together to champion wellness through dance and movement workshops, and even provide a wide selection of clothes and books in their thrift markets. Families, influencers, and businesspeople were also invited down to heal together and make their contributions to upcycle and donate to the Samaritans of Singapore (SOS).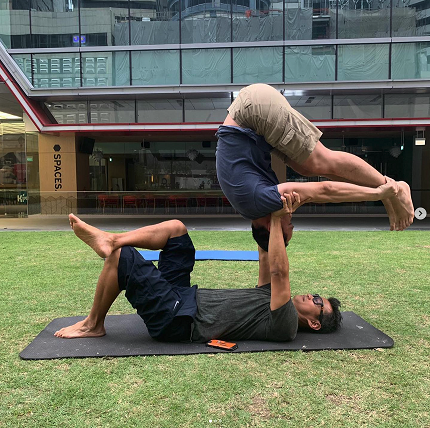 Through these times, it is evident that Raffles Place is continuously reinventing itself to better serve the people who frequent the place. With the green square prominently located right outside Raffles Place MRT, it will serve as an oasis for many upcoming events. Together with Raffles Place Alliance, the park is also expecting many activities lined up for the rest of the year. So do keep a lookout and join us at this iconic destination!