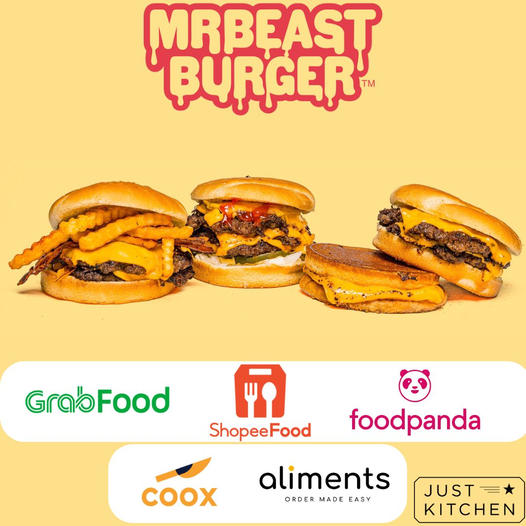 Consumers in Kuala Lumpur and Selangor Can Now Experience MrBeast Burger™ via the JustKitchen App and Third-Party Delivery Service Providers
VANCOUVER, BC, Nov. 29, 2022 /CNW/ – Just Kitchen Holdings Corp. ("JustKitchen" or the "Company") (TSXV: JK) (OTCQB: JKHCF) (FRA: 68Z), an operator of ghost kitchens specializing in the development of delivery-only food brands, announces that it has launched MrBeast Burger™ food items to consumers in Malaysia. Pursuant to its previously disclosed agreement (the "Agreement") with Virtual Dining Concepts ("VDC"), the Company has licensed the MrBeast Burger™ ("MrBeast Burger™" or the "Brand") brand and begun offering it to consumers via three of its ghost kitchen locations on November 11, 2022.
MrBeast Burger™ is available in Kuala Lumpur via two of the Company's ghost kitchen locations, including Bukit Bintang and COOX Glo Damansara. The Company also launched the Brand to consumers in Selangor state through its location at the COOX Syopz Mall at Taylor's University.
The Company's launch schedule for MrBeast Burger™ in Malaysia included the following aspects:
Exclusive media tasting at the Bukit Bintang location for over 40 members of the press and KOLs on November 2, 2022;
Showcase at COOX's press event on November 8, 2022;
Launch on Shopee Food and at COOX Taylor's University pop-up location on November 11, 2022; and
Available via Grab Food on November 18, 2022 and available on Foodpanda on November 25, 2022.
The Company launched MrBeast Burger™ in December of 2021 via a separate arrangement that has been superseded by the Agreement. MrBeast Burger™ will continue to be available via JustKitchen in Taiwan and Hong Kong, while the brand is planned to be launched in the Philippines and Thailand later this year.
Management Commentary
"We are excited to offer consumers in Malaysia access to MrBeast Burger™, who now join our growing base of customers in Taiwan and Hong Kong," said Jason Chen, Co-Founder and Chief Executive Officer of JustKitchen. "Being trusted by VDC to take the MrBeast Burger™ brand to new markets is an honour. We look forward to growing the Brand in other markets in the near future and delighting more customers with these delicious burgers along the way," added. Mr. Chen.