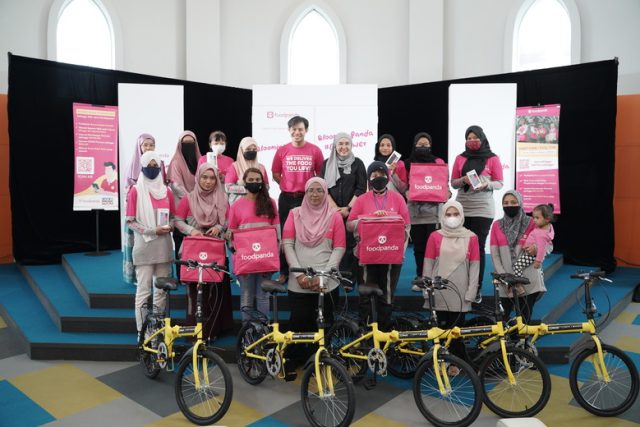 An Initiative to Alleviate the Burden and Challenges of Women in the Gig Economy
Kuala Lumpur, December 7, 2022 – In alleviating the burden and challenges of women workers in the gig economy and to empower women in need, foodpanda Malaysia, the country's leading food delivery service, and Urbanice Malaysia have joined forces to introduce Blooming Panda – an initiative to onboard female walkers as delivery partners and equipping them with bicycles.
In an event held at the National Sustainable Development Goals Centre here this morning, the bicycles which were sponsored by Urbanice, were presented to 35 women in need. They have been previously identified and selected by Urbanice together with Women's Aid Organisation. Urbanice Malaysia is an agency under the Ministry of Housing and Local Government to advocate the sustainable urban agenda.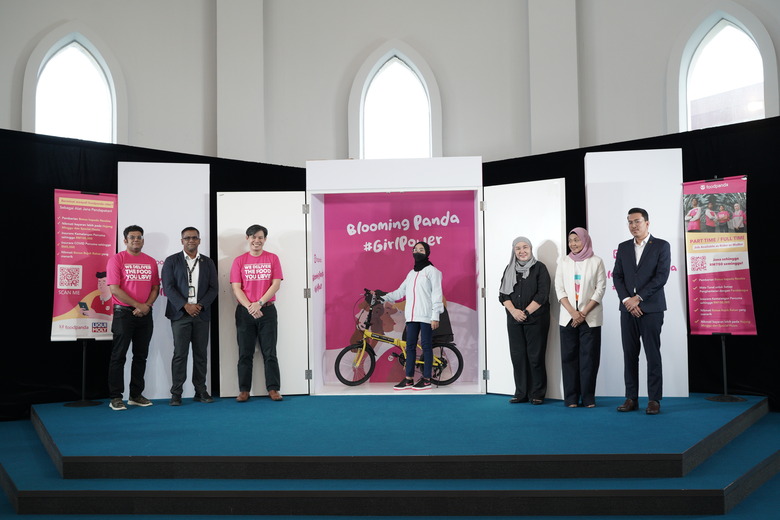 Tuan Mohd Yushanizar bin Md Yusoff, Deputy Director of City Planning, Kuala Lumpur City Hall was also in attendance to witness the bicycle presentation.
Commenting on this impactful initiative, Kelvin Chan, Director of Operations at foodpanda Malaysia said that this initiative was introduced to further encourage women participation in the gig-economy. "From the onset of the pandemic, women have borne a disproportionate share of burden and sacrifice. Through these few years, we have seen a lot of grit and resilience in many of them. We recognise the demand for more flexible work and for women to be able to spend more of their time on what's important to them. As such, we are commited to improving ourselves 1% better each day and to provide an avenue to help women break barriers in  providing for their families and contribute to the economy."
He added, "In the same vein, the name Blooming Panda represents a new beginning for these women in need. We hope that this can provide them with a second chance for them to be more confident and have agency over their own economic empowerment. We are proud to be working with Urbanice through this programme in creating income opportunities and for those in need the most in a manner that is safe and sustainable."
Aside from creating job opportunities and helping women thrive in the gig economy, this partnership between foodpanda Malaysia and Urbanice Malaysia also aims to build a more sustainable community by promoting the use of zero-emission vehicles such as bicycles and e-scooters.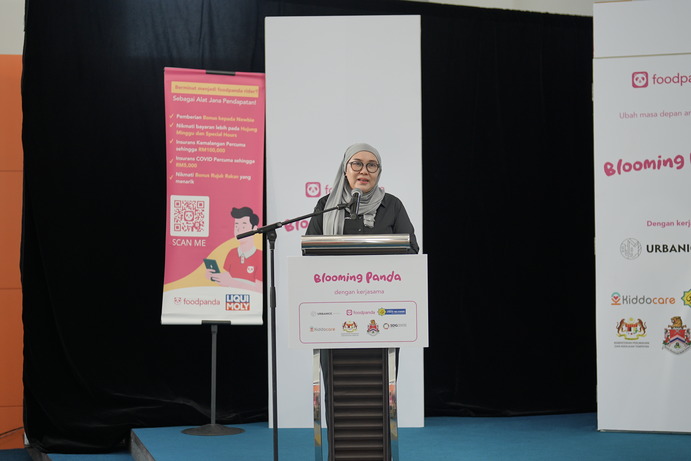 Norliza Hashim, Chief Executive Officer of Urbanice Malaysia shared her pride in being able to collaborate with foodpanda Malaysia in this initiative. In her words, "We are overjoyed at seeing an industry giant such as foodpanda sharing similar values as us. Aside from promoting urban sustainability, we believe that empowering women is crucial to the health and social development of families and the community."
"When women live secure and fulfilled lives, they are able to maximise their full potential – contributing their skills to the workforce and leading them to raise happier and healthier children. Additionally, this could also lead to sustainable economic growth, which will benefit their communities, the nation and humanity as a whole," added Norliza.
Other sponsors and partners involved in the Blooming Panda initiative include, the Selangor Zakat Board, which will be giving three months of zakat (tithe) to the eligible asnaf (needy) participants in the programme. Kiddocare, Malaysia's first and preferred on-demand babysitting platform, will be sponsoring three months of home childcare for the delivery partners.
Nadira Yusoff, Chief Executive Officer and founder of Kiddocare commented, "Kiddocare is truly delighted to collaborate and support the Blooming Panda campaign, by empowering mothers who are foodpanda delivery partners with on-demand childcare. Our platform is a support system for parents, particularly mothers, allowing them to have peace of mind of professional carers who keep their children safe, happy and nurtured, while they go out and work.  We hope through this collaboration, we will also be able to encourage women to join the gig-economy to increase income and their livelihood."
As it stands, foodpanda Malaysia is committed to the economic empowerment of all its delivery partners while ensuring that they remain protected and that their welfare is taken care of. The Company remains to be at the forefront of social protection of its delivery partners, collaborating with strategic partners including Social Security Organisation (Socso) and PolicyStreet, an insurance technology company.