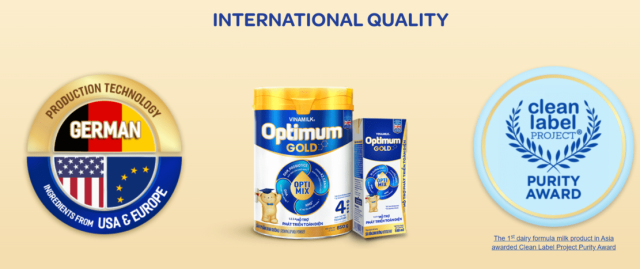 Vietnam's Vinamilk Optimum Gold has been awarded The Clean Label Project Purity Award, which evaluates products for substances that would never be found on a product label. These substances include chemicals of concern and industrial and environmental toxins and contaminants (like heavy metals, pesticide residues, and plasticizers) that have the long-term potential to adversely affect health and well-being.
Obtaining the Clean Label Project Purity Award from the US is significant for Vinamilk because it demonstrates a high level of standard free from heavy metal and other toxins.
In the US, the recent baby food heavy metal scare has prompted baby food manufacturers including Cerebelly and Little Spoon to subject their products to more stringent testing by third party entities. Brands are taking such measures to help assuage consumers who demand something that can tangibly proof the baby food is safe to consume.
Obtaining the certification also paves the way for greater export potential for Vinamilk Optimum Gold in the region.