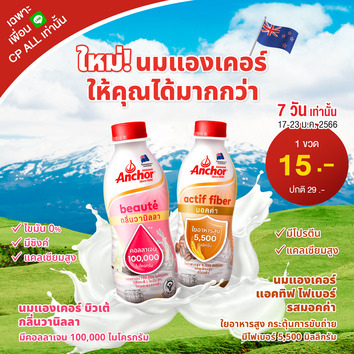 Fonterra has released two new functional dairy products in Thailand under the Anchor Dairy brand. The New Zealand dairy cooperative is using the Anchor brand, known for its cheese products and whipping cream, to launch two flavoured functional milk in RTD format to deliver a convenient way to improve gut health and beauty.
Anchor Beaute Milk with Vanilla Flavour contains 100,000mg of collagen to deliver ingestible beauty. The drink has 0% fat, high in zinc and calcium. Anchor Actif-Fiber Milk with Mocha Flavour is high in fiber (5,500mg), high in protein and calcium for gut health.
Both drinks are said to be an exclusive innovation partnership with 7-Eleven. They are available at 7-Eleven selling at a normal price of THB 25 (THB 15 on 7-23 January 2023).