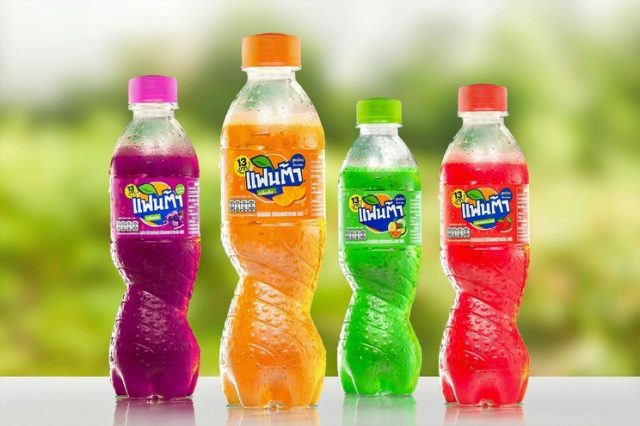 Fanta Orange, Grape Pop, Strawberry, Fruit Punch now comes in a more indulgent and great tasting formula
Thursday 16 February 2023 – 'Fanta', the well-loved and every playful brand under the Coca-Cola Thailand beverage portfolio, is thrilled to get Gen Zs and Fanta-lovers across the country to try its latest and much more indulgent tasty formula across all four flavors – Fanta Orange, Grape Pop, Strawberry, and Fruit Punch. The roll out of this irresistibly tastier formula across all Fanta flavours marks the brand's commitment to creating drinks that many Thais – both young and the young-at-heart – want.
Mrs. Richa Singh, Marketing Director of Coca-Cola Thailand, Myanmar, and Laos said: "'Fanta' is a fun-filled brand that has introduced various fruit-flavored carbonated beverages to the Thai market over several years. We listen to our consumers and have strived to develop innovative products that become fast and firm favorites. Today, we are thrilled to introduce a new and even more delicious recipe for 'Fanta' that is full of flavor and fizzier than ever. Together with the many exciting and playful fun experiences that we are rolling out this year, we are confident that many of the Gen Zs and avid fans of Fanta will enjoy, not only what this more delicious drink has to offer, but what we have prepared for them as well."
From holding that ice-cold contour bottle of Fanta to the sound of bubbles escaping after opening the bottle to the aromatic smell of that well-blended flavour profile and with the distinct look of its redesigned pack, fans are sure to enjoy the whole experience of drinking their favourite Fanta(R) flavour.
The new recipe for 'Fanta' has taken fun to the next level using a mix of new advertising media and activities located both online and offline. Consumers can participate in the Fanta Challenge Open 5 Experience Fizzy event at Lido Connect. Gen Z-ers are also given the opportunity to experience a multi-sensorial event that's bound to tickle their palette, and a chance to have a meet and greet with Three Man Down, one of the favourite bands of Thai teens on February 17.
Give in to the crave. Try the more irresistible taste of Fanta Orange, Grape Pop, Strawberry, and Fruit Punch in original and zero sugar variants now available in the nearest supermarket, convenience stores, e-commerce site, and mom and pop shops near you.
To learn more, follow Fanta on Facebook, Instagram, and Twitter or visit website https://www.facebook.com/FantaThailand/