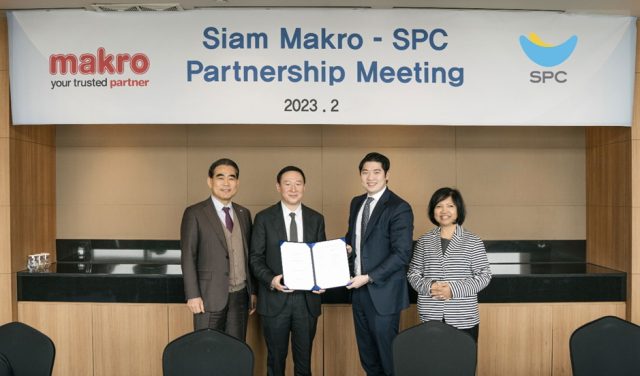 Siam Makro announced on March 6 that it signed a memorandum of understanding (MOU) with SPC Samlip, a South Korean leading food company based in Seoul.
The companies plan to explore possibilities to establish joint venture to implement bakery production and distribution business in Thailand, and operate in-store bakery shops to produce and distribute packaged bakery products at retail and wholesale channels under Siam Makro in Thailand and Southeast Asia. The company also plans to provide a wide range of business expertise including product development, product management, and quality control.
The signing ceremony between Siam Makro and SPC Samlip held at Inter Continental Seoul COEX in February. The key members of each company's management team, including Tanit Chearavanont (CEO – Makro Thailand), and Saowaluck Thithapant (Group CEO – Makro Business), Jonghyun Hwang (CEO of SPC Samlip), Heesoo Hur (Executive Vice President of SPC Group) were present at the ceremony.
SPC Samlip, a global comprehensive food company of Korea's No.1 bakery conglomerate SPC Group, manufactures and distributes bakery, including a variety of packaged bakery and dessert products, and food products including processed meat, beverages, fresh food and HMR, for B2B and B2C customers. The company also operates other related businesses such as food distribution service, F&B storesoperation, and concession. SPC Samlip is the exclusive operator of Californian sandwich brand 'Eggslut' in Korea. Its annual sales in year 2022 was 2.5 billion USD.