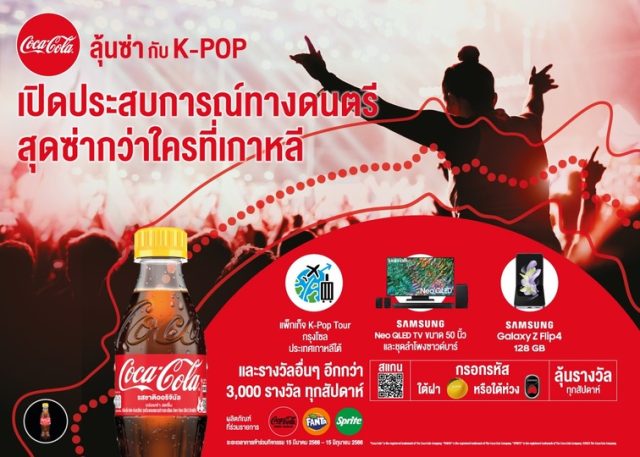 A K-pop festival, a Korean makeover & glam shoot, a live-like-an-idol-for-a-day experience, and more prizes await lucky K-Pop fans.
Friday 10 March 2023 – Coca-Cola Thailand is making this summer hotter and poppier with its latest Coca-Cola Summer Music Promo, which starts on March 15, 2023 and ends on June 15, 2023. Many K-pop fans, Gen Zs, and Thais alike will have a chance to win a trip to South Korea and immerse themselves in Korean pop culture, such as attending a K-pop festival, visiting a top music label, attending idol-like dance classes, and more.
Coca-Cola is steadfast in its commitment to strengthening its brand recognition and consumer engagement by creating awareness and capturing and ultimately keeping consumers' hearts through a diverse range of campaign activities. This year, the company acknowledges the paramount importance of music in the lives of Gen-Z consumers. Music plays a vital role in their lives whether they celebrate, have fun, or relax. In particular, the passion for K-pop culture and music among many Gen-Z individuals has inspired this year's summer campaign.
Winners will be drawn on a weekly basis. Over 3,000 prizes will be given away weekly, including a 50-inch Samsung TV with a home theatre stereo set, Samsung Galaxy Z Flip 4, JBL Party Box speakers, Samsung Buds2 Pro headphones, and many more from March 15 to June 15, 2023. The grand prize winner, who will win a trip to the fully immersive pop culture experience of South Korea, will be drawn on June 30, 2023.
The luckiest grand prize winner will have a full and busy schedule ahead as a Hallyu-filled five-day itinerary awaits. The once-in-a-lifetime experience will consist of to get a star-like pampering done by a professional hair and make-up artist and photographer, a one-day idol dance class training, K-Pop fan tour in Seoul and attend the main event – a K-Pop Festival, featuring many well-known artists and upcoming boy and girl idol groups.
Participating in the Coca-Cola Summer Music Promo is now easier as it opens three ways for people to join the promo.
First Option: People can enjoy any thirst-quenching fizzy drinks from Coca-Cola(R), Sprite(R), and Fanta(R) that come with the special yellow cap or Coca-Cola(R) can pull-up tab.
Purchase any Coca-Cola(R), Sprite(R), and Fanta(R) with a yellow bottle cap and/or Coca-Cola(R) special can pull-up tab from any of the participating stores.
Scan the QR Code found on the side of the bottle label or can or visit https://kpoppromo.coca-cola.co.th/.
Register the UNIQUE Code found under the yellow bottle cap or can pull-up tab on the website.
Second Option: Visit the McDonald's(TM) nearest you.
Purchase a meal with any Coca-Cola(R), Sprite(R), or Fanta(R) drink worth THB 50 per receipt.
Scan the QR code printed on the container.
Register via the McDonald's(TM) app using the code from the receipt.
Third Option: Visit any of the participating stores/restaurants, such as Burger King, The Pizza Company, Bonchon, Sizzler, Taco Bell, and more.
Purchase any meal, food, or snack along with a Coca-Cola(R), Sprite(R), or Fanta(R) drink worth THB 199 per receipt.
Share the receipt via the LINE Official Account: @CokeWithFood
To learn more about the campaign and stay updated with the weekly lucky draw announcements, follow the official Coca-Cola Facebook page at https://www.facebook.com/cocacolaTH.