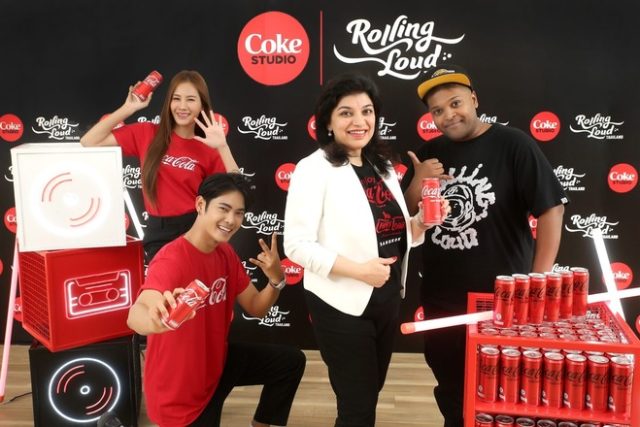 Festival goers will get a preview of soon-to-launch COKE studio Thailand at the first iteration of the world's premier hip-hop festival in Asia
Tuesday 11 April 2023 – Music is one of the core unifying forces for people. The love for music transcends gender, religion, language, social class, and even political affiliations, and Thais are no exemption to this universal truth. Guided by its brand philosophy of celebrating human connections, 'COCA-COLA' – the world's well-loved beverage brand has partnered with ROLLING LOUD – the world's largest hip-hop festival to use the magical power of music and bring people together with the first Rolling Loud music festival in Asia happening on April 13-15, 2023, in Thailand.
The highly acclaimed U.S. hip-hop music festival will turn the music up as Rolling Loud Thailand showcases some of the biggest names in the industry, including Cardi B, Travis Scott, and Chris Brown. Thai music enthusiasts and international fans will get their first-hand magical music experience as the beverage brand will give a sneak peek at one of the brand's biggest global music platforms, COKE studio, which is set to roll the carpet out on its first season in Thailand in June 2023.
Coca-Cola Thailand will surprise many music-festival goers as it transforms one section of Rolling Loud Thailand 2023 into an immersive COKE studio experience space, which included the following:
COKE studio iconic headphone-shaped booth where guests can enjoy the photo ops and dance around.
'COKE' Charging Station to recharge and uplift during their breaks.
'COKE' Break Zone where people can chill and enjoy live music surrounded.
'Coca-Cola' Recycling Station, where used PET bottles and cans can be dropped off for recycling. This is also in line with the Company's global World Without Waste goal of helping collect and recycle the equivalent of every bottle or can it sell by 2030.
The brand will also have a Glow-up Bar so hip-hop fans can wear fashionable makeup, temporary tattoos, and have neon paint painted on them. There will be a customized 'Coke' x Rolling Loud beverage can, which is being offered exclusively at the event.
Richa Singh, Marketing Director – North Region (TH, MM, LA) of Coca-Cola ASEAN & South Pacific said: "COKE studio builds on the long, and extensive history and role of 'Coca-Cola' in shaping multi-generation music culture while connecting fans. COKE studio aims to engage Gen Z music lovers from around the world and connect the ethos of being your authentic self through collaborations with breakthrough artists who stand strong in their identity."
Singh also said that they are delighted to announce that Thailand will soon launch its very first season of COKE studio scheduled in June. "We are more than pleased to have Rolling Loud as a strategic partner to showcase COKE studio. We both share the goal of creative collision and experimentation of borderless possibilities. The COKE studio activation at Rolling Loud Thailand 2023 will not only elevate concertgoers' experiences but will also benefit consumers enjoying the moment with Coke at the music festival" she further added.
Rolling Loud Co-Founders Matt Zingler & Tariq Cherif said: "We couldn't be more excited to partner with 'Coca-Cola' for our first festival in Thailand. Coke is one of the world's most iconic brands, and collaborating with the company on a limited-edition can is a truly amazing moment for Rolling Loud. Through our partnership, we'll be able to shine a spotlight on some special artists and connect with fans around the globe."
First launched in Pakistan nearly 15 years ago and relaunched as a disruptive global music platform in 2022, COKE studio is refreshing the whole musical experience of consumers as it encourages collaborations – bringing together different musical genres as well as emerging and breakthrough artists from mainstream and independent music scenes – celebrating the rich diversity of music and the central unifying role of music amongst today's generation.
Stay tuned for further details and excitement from COKE studio as it officially launches its first season in the second half of 2023. Follow Coca-Cola(R) Thailand on Facebook and Instagram for the latest updates or visit www.coca-cola.co.th for more.