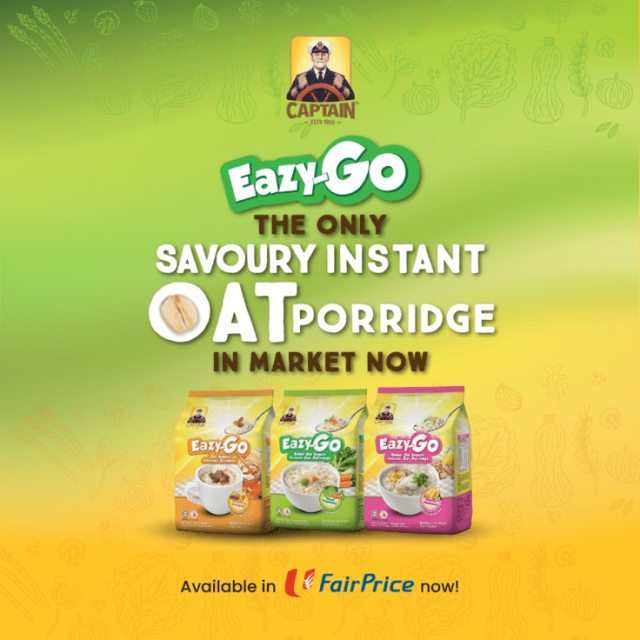 9 in 10 Singaporeans snack on things like instant noodles or biscuits at least once a day – Captain finds in a survey of 200 students and working adults in Singapore
Singapore, 1 June 2023 — People in Singapore love snacking: A recent survey of 200 people by Captain has shown that close to 9 in 10 people have at least one snack a day! But these snacks are often not the healthiest: The survey also shows that instant noodles and biscuits are the most commonly reached-for snack in Singapore. Captain's latest product, Eazy-Go, is the perfect choice when you're hankering for a bite: Whether you're looking for a tasty, healthy meal ready in just three minutes, or for a delicious and endlessly customisable bite during your latest Netflix binge, Eazy-Go are perfect for any occasion!

Captain Eazy-Go comes in two familiar savoury flavours: Mixed Vegetables and Chicken Mushroom that are sure to remind you of your favourite dishes growing up. Packed with natural dietary fibres for healthy digestion, just 1 serving of Eazy-Go contains 13% of your daily fibre requirements — as well as 57% of your daily wholegrain requirements! The oats are carefully milled to retain all the nutritional goodness, while being convenient to prepare — just add hot water and let it sit for three minutes.
In a bid to better understand the market, Captain conducted a survey of 200 respondents in Singapore of mainly students and working adults aged 18 to 34. The survey found that while nearly 87% of the respondents voted for having a well-balanced diet as the most important factor in leading a healthy lifestyle, this result does not reflect their usual eating habits: Over 50% of respondents said they opt to eat out or resort to consuming instant food for their meals.

What's more, over 58% of respondents' lunchtime meals are quickly consumed within 30 minutes – factoring in time commuting, queuing and ordering lunch during peak hours. While they may be a common occurrence, research has shown that eating too quickly has been commonly linked to various health risks, such as obesity.

The top hurdle to achieving a healthier lifestyle? Lack of time, says almost 40% of respondents. Meanwhile, the survey uncovered that almost 9 in 10 respondents have at least one snack each day, but less than half of them reach for a healthy snack — the most commonly eaten snacks include instant noodles and biscuits.
This makes Captain Eazy-Go an excellent game changer on the journey to achieving a healthier lifestyle! Ready in just 3 minutes, Captain Eazy-Go's effortless preparation eliminates the hassle of following step-by-step recipes.

Aside from its plus points of being nutritious and convenient, Captain Eazy-Go also catered to consumers' tastes and preferences. The survey saw that over 69% of the respondents favoured savoury food over sweet food as it is a palate that they're more accustomed to. As compared to sweet flavours, the options available for a filling meal are also broader, giving consumers more variety to choose from.
With a similar texture to porridge, consumers are also free to be creative with their oat porridge where their favourite toppings such as shredded chicken, eggs and fried shallots can easily be added to elevate their meal. Complemented with its already enticing flavours of Mixed Vegetables and Chicken Mushroom, Captain Eazy-Go is sure to reshape the general perception that oatmeal only comes in sweet flavours — or that oats are often tasteless and bland.
With the increasing demand for quick and healthy meal options, it's apparent that savoury oatmeal will be a game changer in the years to come. Whether it is enjoyed as a hearty breakfast to kickstart the day, a scrumptious lunch or dinner, or a late-night supper snack, Captain Eazy-Go savoury oat porridge makes for the ideal nutritional and hearty alternative that is conveniently accessible.
Captain Eazy-Go is now available at selected FairPrice outlets, and on the official Captain Shopee and Lazada storefronts. Pick them up today for a hearty, healthy dose of savoury oat porridge!