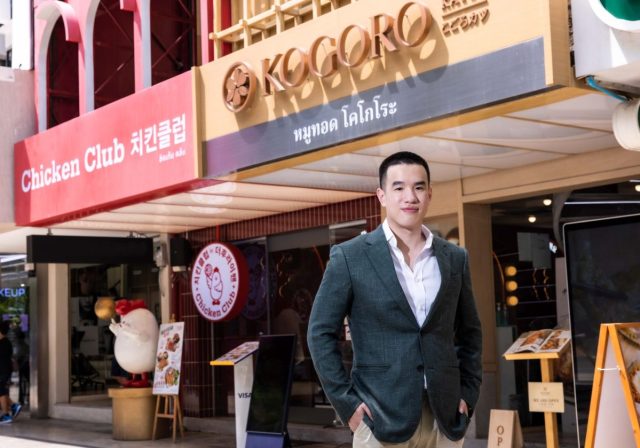 YUZU GROUP, a renowned Thai premium food chain operating under the concept of "Happiness comes in tastes… Like no others" has recently made a 100 million baht investment in the restaurant market. This investment comes as a result of deals with KOGORO Katsu, known for its original Japanese recipe of Katsudon, and Chicken Club Thailand, a provider of authentic Korean Fried Chicken. These newly added food chains align with the strong Japanese and Korean food trend that has been consistently popular among customers from various segments.
Additionally, YUZU GROUP is in the process of launching a new product brand in the third quarter of this year to further accelerate its sustainable growth. The company has set a sales target of 20% growth for 2023.
Mr. Poramin Pruangmethangkul, Founder & CEO of YUZU GROUP at Sompasook Co., Ltd., commented, "2023 is an exciting year for the food and beverages market in Thailand. The demand for Japanese and Korean cuisine has been steadily increasing. With the reopening of borders after Covid-19 pandemic that enables import of high-quality food products from Japan and Korea, new opportunities have emerged for menu innovation. The Katsudon and Korean Fried Chicken markets still have untapped potential, as these menus are currently popular and can be expanded to cater to customers of all age groups. We expect this expansion to contribute to the growth and profitability of our company in the short and long term."
The addition of the two brands, KOGORO Katsu and Chicken Club Thailand, is believed to strengthen YUZU GROUP's bargaining power and enhance cost management significantly. It will also create new business opportunities in the food industry and support sustainable growth throughout the entire organization. YUZU GROUP plans to leverage its expertise in effectively managing premium-grade raw materials to develop new food products that offer customers a unique dining experience.
As for the newly added brands, KOGORO Katsu is a unique restaurant that exclusively serves a special Tonkatsu recipe directly imported from Niigata, the City of Golden Pear. Operating under the concept of "Living a Crisp Life," KOGORO Katsu offers sweet and juicy pears that are unlike any others. The pear is one of the main ingredients used in KOGORO Katsu's menu, delicately paired with over 20 carefully selected katsu dishes to deliver the authentic taste of Niigata to customers during their special meals.
The restaurant takes pride in using rice sourced from Iwate Prefecture, where the rice is grown under perfect water and climate conditions. This soft and fragrant rice is served in clay pots designed to keep the rice warm for a longer period. The breadcrumbs used for the Tonkatsu are made from freshly baked bread, resulting in a crispy coating that doesn't absorb excess oil. KOGORO Katsu also offers an original Niigata sauce with a sweet and sour flavor, made from 17 ingredients including fruits, vegetables, and herbs. Additionally, the restaurant boasts a Signature Katsu Pear Sauce, a secret sauce made from pear fruit that sets their Tonkatsu apart. These sauces complement various food items on the menu.
Currently, KOGORO Katsu operates at three branches: Siam Square Soi 7, Central World, and Mega Bangna.
YUZU GROUP has further expanded its business by venturing into fast-service Korean food with the brand Chicken Club Thailand. Chicken Club Thailand offers street food-style fried chicken from Korea, following the concept of "Walk Out with Wings." The restaurant adds a slight twist to the recipe to cater to local preferences. Alongside the popular fried chicken, the menu also includes pan-fried dishes, noodles, and various types of Korean street food. Diners can savor the authentic flavors of Korea that make them feel like dining in the streets of Myeong-dong. The restaurant's first and only branch as of now is located at Siam Square Soi 7.
Mr. Poramin also emphasized the group's investment in and continuous development of its CRM system. The focus is on comprehensive customer engagement and fostering loyalty. The group's loyalty program, which offers three levels (silver, gold, and platinum), can be accessed through its LINE@ Official account. In addition to receiving the latest information, members can accumulate points and redeem rewards at any of the restaurants under YUZU GROUP.
Previously, YUZU GROUP operated seven brands, including Yuzu Omakase, Yuzu Suki, Yuzu Ramen, Yuzu Sushi Delivery, Yuzu Honey, Thai Thai Boat Noodles, and Yuzu Ramen Express. The group had a total of 13 outlets in Thailand and four outlets overseas as of May 2023. With the addition of KOGORO Katsu and Chicken Club Thailand, the group now operates a total of 17 outlets and aims to open another 10 outlets by the end of 2023, resulting in a total of 27 outlets and projecting a 20% growth. Mr. Poramin also revealed the group's plan to launch a new brand within Q3 of this year, expanding its product line to meet the demands of customers across all market segments.
The business turnover of the YUZU GROUP in 2022 was 430 million baht, with a profit of over 80 million baht. The proactive marketing plan in the food industry for 2023 aims to increase the group's business turnover by more than 20%.
For more detailed information, please visit www.yuzugroup2018.com.