Shah Alam, June 28, 2023- Artificial Intelligence (AI) is revolutionising many aspects of our lives. For this Parents' Day that falls on the 23rd of July, Alce Nero™ enlisted a popular AI powered search to suggest an organic and creative three course menu that kids can make for their parents using its products. 
Alce Nero™'s AI-prompted initiative empowers kids to take charge in the kitchen, so that they are confident in their capabilities while fostering creativity and experimentation. Cooking is a valuable life skill that kids should learn early on, and Parents' Day is the perfect occasion for kids to gift parents and grandparents with a meal that they have made mostly by themselves with just a little help from their proud parents. 
Alce Nero™'s farm-to-table concept is made possible by working with its network of organic farmers, making the produce much healthier as they are grown without pesticides or synthetic chemicals, non-polluting and with no Genetically Modified Organisms (GMOs) to meet global organic certification standards. All Alce Nero™ products are certified organic displaying European Organic Certification and the Japanese Organic Certification. Malaysians can use Alce Nero™ products with confidence as it is certified Halal by official certification bodies recognized by JAKIM. 
Ready for this AI-powered organic three-course meal that looks fancy, tastes delicious and is simple enough for kids to prepare for parents or grandparents? It's time to add AI to "I Love You" and "我爱你" (I love you in Mandarin) this Parents' Day, with Alce Nero™ organic products. The products featured are Alce Nero™ Organic Whole Wheat Spaghetti, Alce Nero™ Organic Pasta Sauce with Vegetables, Alce Nero™ Organic Unfiltered Apple Cider Vinegar, Alce Nero™ Organic Wildflower Honey and Alce Nero™ Organic Extra Virgin Olive Oil. 
Drink: Sparkling Apple Cider Mocktail
Kids can mix up this impressively pretty and healthy drink in minutes. Thinly slice an orange, a lime, and a grapefruit. Place 1 slice of each citrus fruit in a glass. Pour one teaspoon of Alce Nero™ Apple Cider Vinegar and one teaspoon of Alce Nero™ Wildflower Honey over the fruit. Top with chilled sparkling water, and garnish with a sprig of rosemary. Enjoy immediately. 
Prep time: 10 minutes, serves: 3-4 pax 
Appetiser: Saucy Rainbow Crostini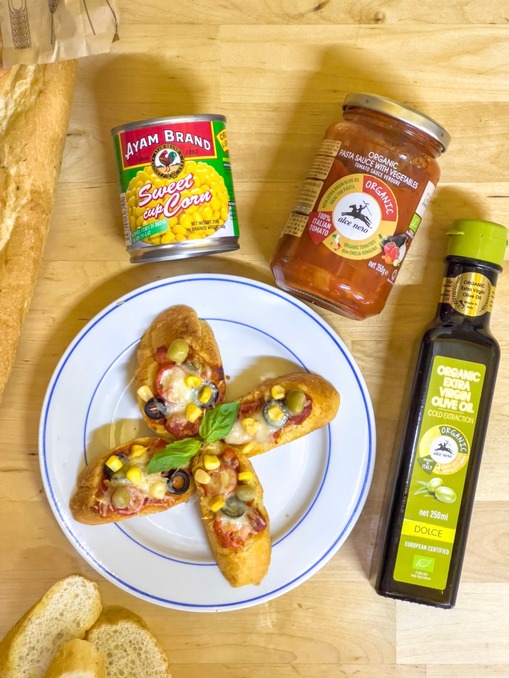 This saucy rainbow crostini looks stunning and tastes even better, yet is simple to make. 
Slice a baguette diagonally to about 1 to 2 centimetres thickness – thinner slices will be crispier, thicker slices will be heartier. If you do not have access to baguettes, regular sliced bread will work, but won't be as crisp. Heat oven to 200C. Line a baking sheet with parchment paper. Brush Alce Nero™ Extra Virgin Olive Oil on both sides of each slice. Sprinkle minced garlic on each slice. Toast for 7 minutes on each side. Remove from the oven. 
For the saucy base, mix Alce Nero™ Organic Pasta Sauce with 1 to 2 tablespoons of Alce Nero™ Apple Cider Vinegar. Generously spread sauce bread on each slice. Add a layer of grated cheese so toppings can adhere. Load up each saucy slice with some Ayam Brand™ Sweet Corn, Ayam Brand™ Processed Peas, black olive slices, and sliced cherry tomatoes. Finish with another sprinkle of grated cheese. 
Increase the oven temperature to 220C on the grill function. Pop the tray back into the oven for 5 to 7 minutes or until the cheese is melty and gooey. 
Garnish with some fresh basil and dig into Saucy Rainbow Crostini, healthy, colourful, crunchy and scrumptious.  
Prep time: 10 minutes, cook time: 25 minutes, serves: 3-4 pax 
Mains: Meatballs in Spaghetti Nests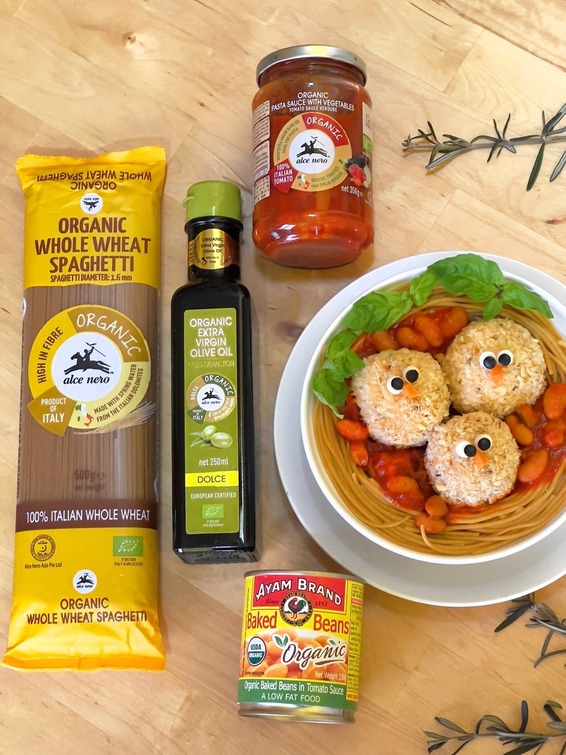 How cute is this dish? Add one large meatball for each family member into the nest for a symbolic and adorable main course. 
Prepare meatballs by adding minced onion, black pepper, cornflour, salt and the minced meat of your choice (we used chicken) then form into balls. Coat with breadcrumbs. Bake at 180C for 25 to 30 minutes. While the meatballs are baking, cook Alce Nero™ Whole Wheat Spaghetti following the instructions on the packet, packet drain and allow to cool. Spray an oven-proof bowl with cooking spray. Add the grated cheese into the cooled Alce Nero™ Whole Wheat Spaghetti, toss well until well combined.  Set aside.
Mix the Alce Nero™ Pasta Sauce with Vegetables with the Ayam Brand Baked Beans. Pour the pasta sauce mixture into the middle of the nest. Arrange the baked meatballs atop the pasta sauce mix. Sprinkle more grated cheese if desired. Cool slightly, decorate the meatballs to form bird faces, garnish with chopped basil and it is ready to serve.
Prep time: 15 minutes, cook time: 45 minutes, serves: 3-4 pax
 Availability
Alce Nero™ products are available at AEON, Ben's, Cold Storage, Giant, Jaya Grocer, Village Grocer, TF Value and via the Ayam Brand Shopee Official Store & Ayam Brand Lazada Official Store.
 For more time and effort saving recipes that you can enjoy, please visit https://alcenero.asia/recipes.html and Facebook page https://www.facebook.com/AlceNeroMalaysia/