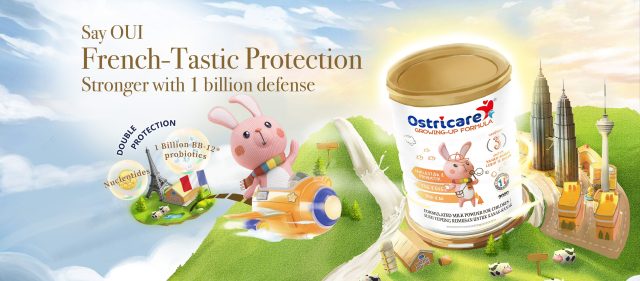 Ostricare Growing Up Formula Step 3 is now available in Malaysia. This product is said to be the only cow milk formula in Malaysia with BB-12 Probiotics by Chr. Hansen. BB-12 probiotics protects the digestion system, reduces constipation and prevents colic.
Ostricare Cow Milk Formula is 100% imported from France. The formula is manufactured by Lactalis International, the world's largest dairy group with over 90 years of experience in dairy industry with more than 2,000 dairy products under their belt.
Ostricare Cow Milk Formula is designed for growing toddlers aged 1 year and above.
BB-12® for protecting digestion
Nucleotides for protecting immune system
DHA & AA for essential brain development
FOS & GOS to support the growth of good bacteria
Taurine for supporting overall physical and mental growth.
15 unique types of vitamins
12 unique types of minerals
Protein for essential growth and development
Ostricare is part of Orient EuroPharma (OEP), which includes an established line of products sold worldwide, ranging from infant and adult nutrition, healthcare, cosmeceuticals to pharmaceuticals.
Ostricare Cow Milk Formula is available online and at Healthlane Family Pharmacy, Sunway Multicare Pharmacy, Village Grocer, selected Alpro Pharmacy etc.