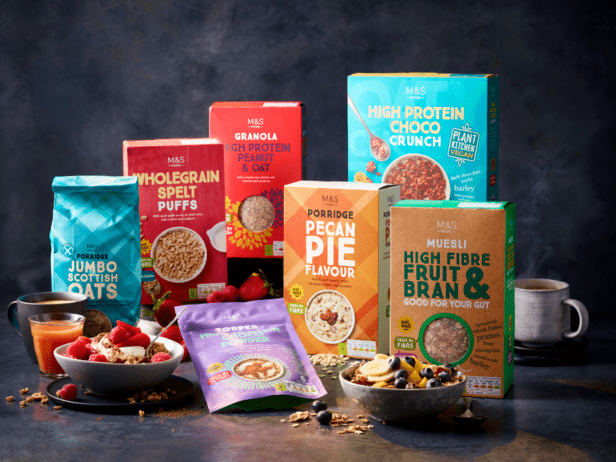 Make your morning meal the favourite of the day
Kuala Lumpur, 31 July 2023 – Marks & Spencer (M&S) – the iconic British retailer is proud to introduce delectable new additions to its popular breakfast range which will add a burst of excitement to your breakfast routine.
Say hello to irresistible morning treats that will instantly become the highlight of your day.
Developed, tried and tested by M&S expert breakfast product developers, the latest additions are designed with the diets and taste buds of all family members in mind. Deliciously healthy, the new additions are made with high-quality ingredients ideal to kick-start the day.
Fruit-ful Mornings
For those seeking a high-fibre meal with a delightful fruity taste, these options are great to keep you feeling full and energised throughout the day.
M&S Very Berry Fruity Muesli
A delicious blend of wholegrain oats, dried berries, nuts, and seeds, this muesli offers a balance of flavour and texture. Whether eaten leisurely for breakfast or a quick bite between meals, M&S Very Berry Fruity Muesli caters to all your cravings. High in fibre and bursting with berry goodness, it's an ideal breakfast or snack option for health-conscious foodies.
M&S Very Berry Flavour Porridge Pot
The ultimate breakfast solution for a quick and nourishing start to your day. Say goodbye to long breakfast prep and indulge in the goodness and convenience of the M&S Very Berry Flavour Porridge Pot. This wholesome protein-rich breakfast is not only a time-saver, but the perfect go-to breakfast choice packed with essential nutrients to fuel your day ahead.
M&S Raisin Almond & Honey Granola
Start your mornings with crunchy almonds, the natural sweetness of raisins and the warm taste of honey. Packed with fibre the M&S Raisin Almond & Honey Granola is a celebration of wholesome ingredients. The mix of raisins and whole and sliced almonds will have you eagerly reaching for every spoonful. Whether sprinkled over yoghurt, paired with milk, or enjoyed as a standalone snack, this granola will nourish your body with each satisfying bite.
Choco-fueled Mornings
Who says you cannot have chocolate for breakfast? These picks are perfect for the sweet tooths in the family.
M&S Triple Chocolate Crunch
Made with a mixture of white and dark chocolate curls, oat flake clusters, crisped rice and milk chocolate chunks, the M&S Triple Chocolate Crunch cereal offers an indulgent breakfast that will set you up for the day. Best served with milk, it makes for a yummy weekend treat to enjoy with the whole family.
M&S Choco Pops
Enjoy the goodness of chocolatey taste without the guilt with the M&S Choco Pops. This puffed rice cereal is not only flavourful, but also a rich source of vitamins and iron. Savour the goodness of chocolate and start your day with a cereal that nourishes your body and satisfies your taste buds.
Available across all M&S stores in Malaysia, the latest breakfast offerings make preparing breakfast a breeze. Full of nutrition and high-quality taste, it is the perfect way to celebrate the most important meal of the day.