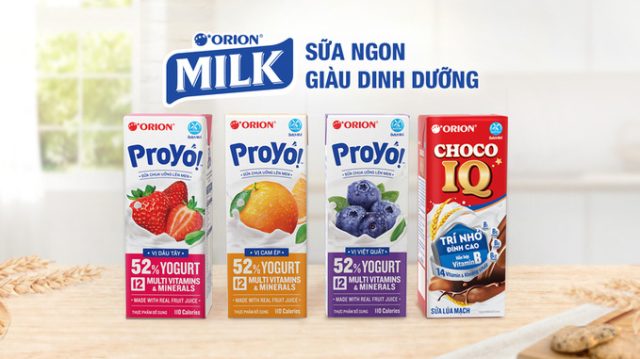 South Korea's Orion is entering the Vietnamese dairy market through a partnership with Thailand's Dutch Mill. Orion is introducing the ProYo! fruit-flavoured yogurt drink and Choco IQ chocolate-flavoured malt milk drink to Vietnam in August 2023.
Choco IQ is made from 88% natural cow's milk and contains over 14 types of vitamins and minerals, including vitamin B1, B2, B3, B5, B6, B7, B9, B12, calcium, phosphorus, iron, vitamin A, D, E, and C.
ProYo! is a healthy yogurt drink with a unique formula featuring 52% naturally fermented yogurt and real fruit juice. ProYo! has Lactobacillus bulgaricus, Streptococcus thermophilus to support the digestive system. The drink combines 12 vitamins and minerals (calcium, zinc, iodine, vitamin A, C, D, E, B1, B2, B3, B6, B12) to help strengthen immunity, improve height, brain health and skin health.
In the Philippines, Dutch Mill has an existing partnership with Monde Nissin to distribute its cultured milk and yogurt drinks. Dutch Mill's yogurt drink has a market leadership position in the country with a 89.8% share in Q2, 2023.