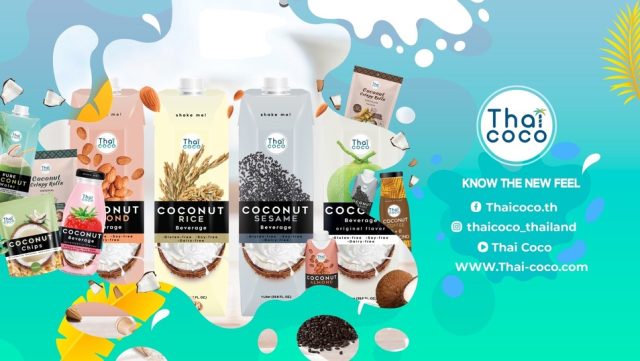 Wednesday 13 September 2023 – The Stock Exchange of Thailand (SET) will list Thai Coconut pcl, a manufacturer and distributor of coconut-based products such as coconut milk, coconut juice, coconut snacks and ready meals, on September 14 under the ticker symbol "COCOCO". The company has a market capitalization at its initial public offering (IPO) of THB 8.09 billion (approx. USD 227.63 million).
SET Senior Executive Vice President Manpong Senanarong said that COCOCO will be listed and start trading on SET in the Agro & Food Industry industry group, Food & Beverage sector.
COCOCO produces and distributes processed products made from coconuts and fruits including canned coconut milk, UHT coconut milk, pasteurized coconut milk, canned coconut juice, UHT coconut juice, pasteurized coconut juice, coconut snacks and ready meals under the Thaicoco and Cocoburi brands. The company also manufactures coconut-based products for industrial use, and produces wet dog and cat food under the Moochie brand. Both are private-label and original equipment manufacturer (OEM) products available locally and internationally. In addition, COCOCO manufactures and sells healthy food made from plant-based protein as well as plant-based cheese and butter.
After IPO, COCOCO has a paid-up capital of THB 735 million consisting of 1.1 billion existing common shares and 370 million newly issued shares, with a par value of THB 0.50 each. It offered newly issued shares to the general public during September 4-6, 2023, at THB 5.50 each for a total fund raised of THB 2.04 billion. The IPO price is equivalent to the price-to-earning ratio (P/E ratio) of 22 times calculated from the company's net profit in the past 12 months divided by fully diluted shares. Fin Plus Advisory Co., Ltd. is the financial adviser. UOB Kay Hian Securities (Thailand) pcl and Beyond Securities pcl are joint lead underwriters.
COCOCO Chief Executive Officer Worawat Chinpinkyo said the fundraising and listing on SET is a milestone plan of COCOCO to expand its production capacity for coconut-based products, snacks for dogs and cats and plant-based products to support future growth. This also opens opportunity for investors and the general people to be a part of the company's success. In 2022, COCOCO is one of Thailand's top coconut and coconut milk exporters with customers in over 90 countries around the world. COCOCO is determined to maintain its leadership in Thailand when it comes to the manufacturing, sales and export of processed products made from coconuts and fruits.
COCOCO's dividend policy is to pay at least 40 percent of net profit from its separate financial statement after corporate income tax and all reserves required by laws and its regulations set yearly. However, its dividend payment is subject to factors concerning the benefits of shareholders such as economic situations, the company's operating performances and financial conditions, working capital, investment plans, debts, limitations under loan agreements, necessities and suitability.
COCOCO's major shareholders after the IPO are Chow-Aree Holding Co., Ltd. and a group of founders led by Worawat Chinpinkyo (74.83 percent).