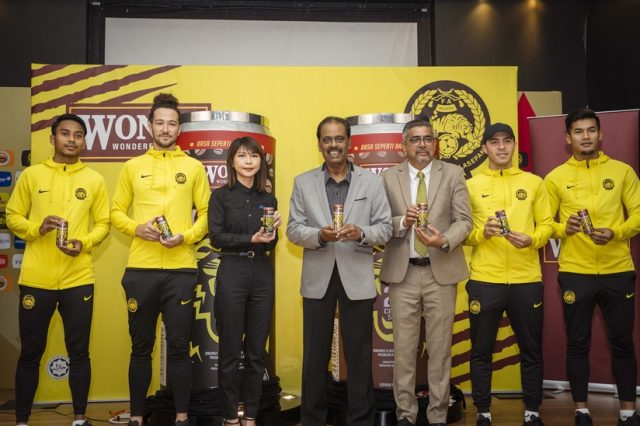 Wonda Coffee co-creates Wonda Extra Shot coffee with the inspiration of Harimau Malaya to empower the national football team leading up to the 2023 Asian Cup in Qatar
KUALA LUMPUR, 12 October 2023 – Wonda Coffee, one of Malaysia's leading ready-to-drink (RTD) coffee brand, offering the smooth taste like freshly brewed coffee in a can, relaunched its Wonda Extra Shot range, a co-creation with Football Association of Malaysia (FAM) to empower the football fans and our national football team, Harimau Malaya.
The co-creation of the Wonda Extra Shot coffee range, a coffee drink that gives you a double coffee boost, will feature a new and unique can that highlights Harimau Malaya. The collaboration is part of Wonda Coffee's initiative as a partner to provide that extra boost in support to our national team and our fans as they journey to the 2023 Asian Cup in Qatar.
No stranger to Malaysian football fans, WONDA has been actively promoting football-focused initiatives. In June, Wonda announced its partnership with FAM for a three-year term to elevate the local football scene. This partnership with FAM reflects WONDA's spirit and commitment to inspire fans to rally behind the Harimau Malaya and cheer them to achieve even greater heights on the global stage.
The new can for Wonda Extra Shot coffee was relaunched ahead of the 2023 Pesta Bola Merdeka tournament, which will be held from 13 to 17 October. The festival kicks off with Malaysia's national squad playing against India, a match that is set to highlight our national team's strength in preparation for the 2023 Asian Cup in Qatar.
The Wonda Extra Shot comes in two flavour variants – Black coffee and Milk coffee, it offers double the coffee shot from the original coffee in a can range. With the added boost, Wonda Extra Shot coffee will give you the extra kick to fuel your passion as you cheer and show your undying love for our national football team.
Etika's Vice President of Marketing, Amy Gan said "This collaboration with FAM marks an exciting chapter in Wonda Coffee's journey, where our passion for fuelling the spirit of football meets FAM's dedication to nurturing the national team's excellence. Through the co-creation of Wonda Extra Shot coffee, we are not only offering fans a delicious and invigorating beverage but also a symbol of our support for the national team's endeavours. We believe that the camaraderie, energy, and passion that this coffee embodies will serve as the driving force behind every cheer, every goal, and every triumph, further solidifying our shared dream of seeing our beloved Harimau Malaya excel on the global stage."
She also said, "In whatever we do to cheer for the football team, we muster an incredible amount of strength to keep us going, mirroring the very essence of Wonda Extra Shot that provides us with an added boost to continue going forward!"
FAM's President, Datuk Haji Hamidin Haji Mohd Amin said "We are truly grateful for the support of Wonda Coffee in fuelling the passion of Malaysian football fans to stand firmly behind our national team. The re-launch of Wonda Extra Shot coffee not only reflects Wonda Coffee's commitment to the Malaysian football community but also underscores our shared goal of uniting the nation through the beautiful game. Together, we aim to empower fans to be the driving force behind Harimau Malaya and contribute to our success. This collaboration is a testament to the unwavering support of our fans, and we look forward to a future filled with success and triumphs with Wonda Coffee by our side."
In conjunction with Pesta Bola Merdeka and supporting the national team's journey to Qatar, the special edition Wonda Extra Shot coffee will be available for purchase at most retail stores nationwide. With this initiative, Wonda Coffee has also pledged to send Harimau Malaya's dedicated fans to represent the voice of all Malaysians as they stand by the national team's side during the upcoming Asian Cup 2023 in Qatar.
The Wonda and FAM partnership will also see future activity announcements championed by both in support of local football empowerment. It will also see numerous plans to engage with the football community in Malaysia for various initiatives supporting Harimau Malaya, a step further into elevating the country's football scene forward.