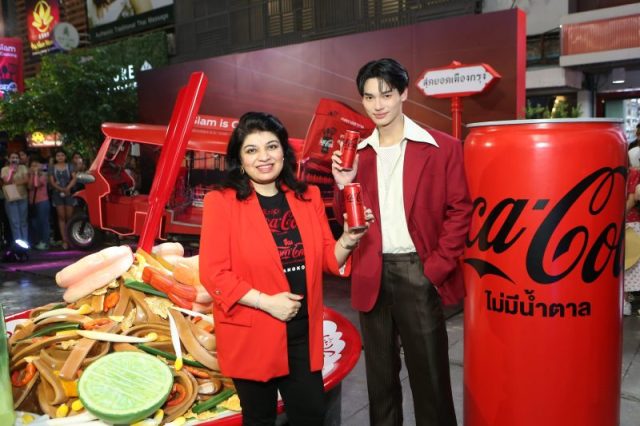 Sunday 22 October 2023 – With a vision to celebrate the diverse gastronomy culture and elevate global dining experiences, 'Coca-Cola' introduces 'Coke is Cooking'. This global culinary platform seeks to bridge generations, uniting them through daily joys like music, food, and entertainment.
In Thailand, this vision came alive with 'Siam is Cooking'. Hosted by 'Coca-Cola', this three-day culinary extravaganza was held in the heart of Bangkok at Siam Square. Highlighting the essence of Thailand's rich gastronomy culture, the event showcased over 50 premier restaurants from across the nation. Curated by 'Coca-Cola', these establishments converged in Bangkok, providing food enthusiasts an enhanced dining journey, perfectly complemented with Coca-Cola(R) Zero Sugar.
Spanning a myriad of culinary themes including the 'Best of Bangkok', the 'Best of the Four Regions', 'Best of International Cuisine', and 'Best of Online Hypes', the event recreates a vintage ambiance. This nostalgic decor pays homage to Thailand's historic food scene, which has earned its esteemed place on the global culinary map. From 20th to 22nd October 2023, guests can immerse themselves in diverse activities such as concerts featuring renowned COKE Studio Artists, including bamm and Lipta.
The inaugural day witnessed Win-Metawin Opas-iamkajorn, in collaboration with Thailand's MasterChef, Sahadol Tantrapim, crafting exclusive dishes. This special dining experience was complemented by a soulful performance by COKE Studio Artist, bamm.
Richa Singh, Marketing Director, Coca-Cola for Thailand, Myanmar, and Laos, remarked, "At 'Coca-Cola', we recognize and celebrate the young generation's passion for gastronomy and their desire to chronicle these moments online. 'Siam is Cooking' is our grand gesture to offer them an elevated meals experience with our handpicked eateries, where the new generations can enjoy the retro decoration and share their fresh-take moments online. Today's event welcomed Win-Metawin Opas-iamkajorn representing the 'Coca-Cola' family, and more of your favourable celebs to come, through this and the accompanying melodies of our COKE Studio Artists, complemented by Coca-Cola(R) Zero Sugar, we envision a perfect blend of offline engagement and online sharing."
The esteemed culinary event, 'Siam is Cooking', is set to dazzle attendees from the 20th to 22nd October 2023. This gastronomic journey unfolds at the Siam Square Block K and Siam Square Soi 5. A roster of special guests will be in attendance, adding an extra layer of excitement and flavor to the proceedings.
Event Highlights:
Friday, 20th October 2023: Win-Metawin Opas-iamkajorn collaborates with Thailand's MasterChef, Chef Pond Sahadol Tantrapim, to craft exclusive dishes. The day will be further enriched with a musical performance by bamm.
Saturday, 21st October 2023: The culinary duo of Tutor-Koraphat Lamnoi and Yim-Pharinyakorn Khansawa will team up with renowned chefs from Thailand's MasterChef and Iron Chef, specifically Pongtawat Kittichai, also known as Chef Ian. As the day winds down, attendees will be serenaded by Lipta.
Sunday, 22nd October 2023: PP-Krit Amnuaydechkorn joins forces with Thailand's renowned chef M.L. Kwantip Devakula, specialized in Thai cuisine, to curate a special menu for the attendees. Lipta will once again grace the stage, bringing the weekend to a melodious close.
Stay abreast of all the exhilarating activities leading up to and during the 'Siam is Cooking' event, both in-person and digitally. For the latest updates, especially about Coca-Cola Zero Sugar, visit Coca-Cola's official website and Coca-Cola's official Thai Facebook page.