Singapore, 31 October 2023 – 100PLUS was created in 1983 to commemorate F&N's centennial. It started as an electrolyte-infused drink designed for hydration.  Over the past 40 years, the selection has evolved and serves more than hydration, but also functional benefits. The newest addition to the brand is 100PLUS PRO High Protein whichaids hydration and muscle recovery. 
As Singapore's number one brand in the isotonic drink category, 100PLUS understands the changing demands of its consumers as their lifestyle and fitness objectives shift. The brand is forward moving and innovative, continuously introduces new and improved products to fulfil the specific needs and wants of consumers. 
With an increasing number of fitness enthusiasts engaging in performance-oriented activities such as strength training, CrossFit, and indoor cycling or spin, among other sporting activities, the emphasis for those who adopt an active lifestyle should be on adequate hydration and consumption of products with protein to facilitate muscle recovery.  
Research shows that consuming protein before, during and after a fitness activity can enhance the recovery, growth and maintenance of muscle mass1. Separate studies have indicated that branched-chain amino acids (BCAAs) can mitigate muscle damage induced by exercise and aid in recovery between exercise sessions2.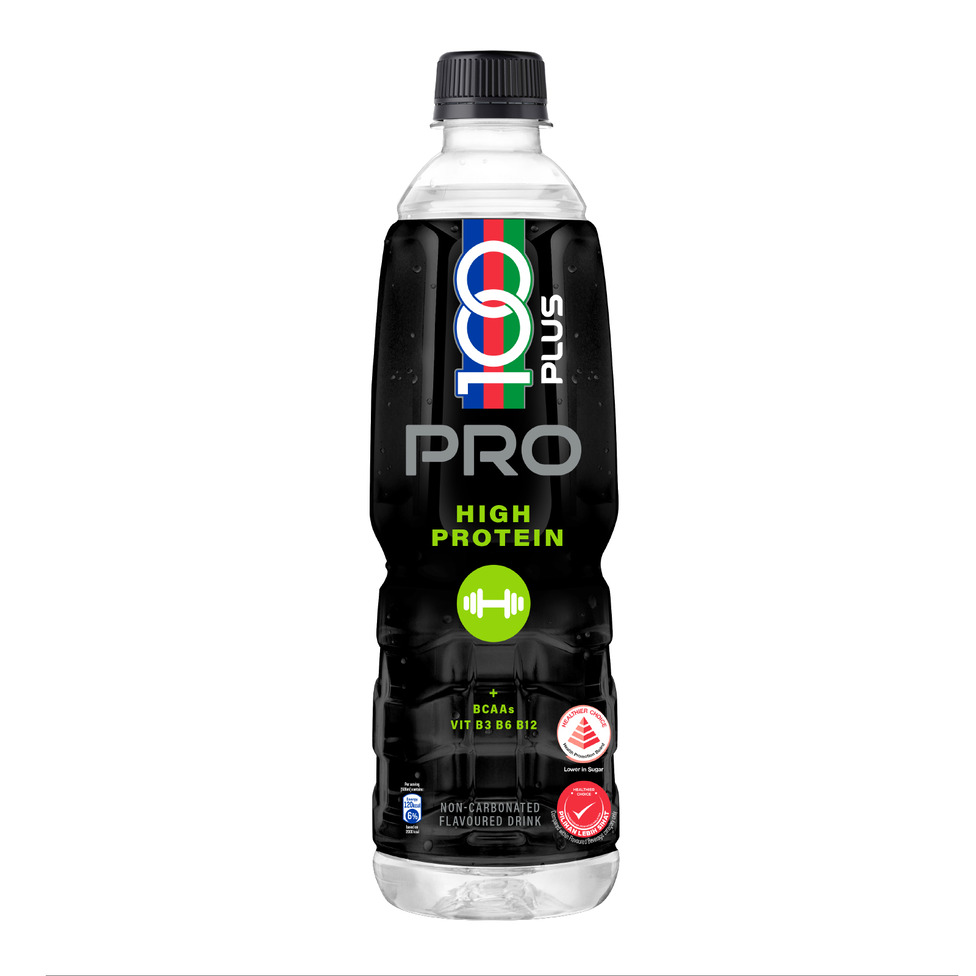 The brand-new non-carbonated 100PLUS PRO High Protein is formulated to support hydration and promote muscle recovery at different phases of fitness activities. The functional ingredients of the drink deliver the benefits before, during and after exercise. Each 500-ml bottle provides 10 grams of protein. According to Healthhub.sg, 10 grams of protein is approximately one-fifth of the daily protein requirement typically recommended for adults aged 18 to 49 years old. This is calculated based on the average body weight of 60kg of individuals in this age group in Singapore3. Furthermore, it contains 2 grams of Branched Chain Amino Acids (BCAA) per bottle, with both derived from Whey Protein Isolate. 
The beverage is also fortified with the B Vitamins like vitamin B3 (Niacin), B6 (Pyridoxine), and B12 (Cobalamin), which are pivotal in mitigating exhaustion and fatigue by supporting enzymes in the body to carry out essential tasks such as releasing energy from carbohydrates and fat, breaking down amino acids, and transporting oxygen and energy-containing nutrients around the body4. 
For fitness enthusiasts who are mindful of their dietary intake, 100PLUS PRO High Protein is lower in sugar, low in Glycemic Index (GI), carries the Healthier Choice Symbol by the Health Promotion Board (HPB), and Halal-certified. The drink is currently available at Cheers, FairPrice, Sheng Shiong and major retail outlets, and 100PLUS vending machines at sports centres around the island. It has a Recommended Selling Price (RSP) of S$3.50 for each 500-ml bottle.
From now until 30 November 2023, consumers stand a chance to win a set of 100PLUS Pro Gym Pack that comprises a BOLD x 100PLUS gym bag and Ministry of Fitness gym trial worth S$200 each, simply by purchasing a 500-ml bottle of 100PLUS PRO High Protein from participating FairPrice or Cheers outlets, and send a copy or photo of the receipt via lucky draw entry form online. 
Online submission form: bit.ly/100PLUSPROPROMO 
For more information, please visit 100pluspro.com or https://sg.fnlife.com/100plus. Follow 100PLUS Singapore on Facebook or @100plus_singapore on Instagram for more updates.
1.     "Protein for exercise and recovery", National Library of Medicine, National Centre for Biotechnology Information, https://pubmed.ncbi.nlm.nih.gov/20048505/
2.     Morse, T., S Willoughby, D. (2019). Efficacy of BCAA supplementation for exercise performance and recovery: a narrative review. J. Nutr. Health. Food Eng., 9(3), 128‒133.
3.     "Why Protein Is More Important Than You May Think, And 5 Common Protein Myths", Healthhub.sg, https://www.healthhub.sg/live-healthy/why_protein_is_important
4.     "B Vitamins", Harvard T.H. Chan School of Public Health,  https://www.hsph.harvard.edu/nutritionsource/vitamins/vitamin-b/