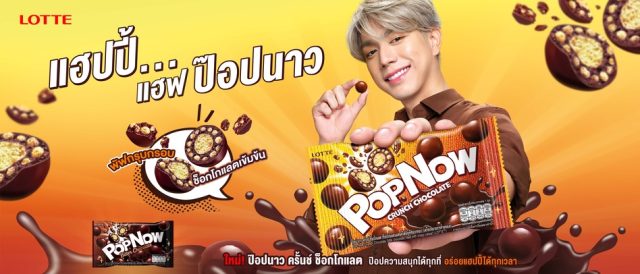 Tuesday 31 October 2023 – LOTTE is taking the lead within the snack industry once again by introducing its latest creation, POP NOW, a rich and crunchy chocolate snack under the concept of "Happy…Have POP NOW". This remarkable debut is primed to intensify the thrill within Thailand's chocolate market. With a substantial marketing budget and streamlined production capabilities, this new chocolate launch campaign is strategically positioned to capture the attention of a wide range of consumers nationwide. The launch is set to gain further momentum with the inclusion of Norraphat 'Bright' Vilaiphan as the product presenter. This grand unveiling aims to infuse fresh dynamism into Thailand's chocolate market.
POP NOW presents its unique characteristics through its name: "POP" conveys its practical advantages, highlighting a spherical delight with an irresistibly crisp texture and a luxurious cocoa intensity. Alongside this, "NOW" symbolizes the emotional perks of convenience, prepared to be relished whenever and wherever desired. This concept emphasizes how POP NOW stands as the ultimate snack for those in search of a fleeting pause, offering a mood-elevating encounter within a single bite that not only brightens your day but also infuses it with a burst of positivity and brightness, leaving you refreshed and invigorated.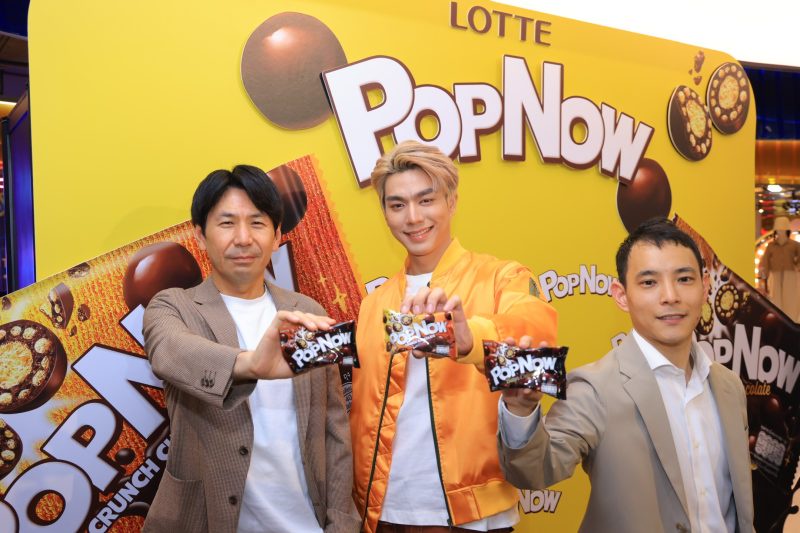 Mr. Sadafumi Matsushita Managing Director, Thai Lotte Co., Ltd. said, "Since 1948, LOTTE has remained at the forefront, consistently offering high-quality products that are cherished and relied upon to enrich the lives of people. Our product portfolio includes iconic items such as Koala's March, Toppo, Lotte Xylitol, and many more. These contribute to LOTTE's robust brand presence, fostering unmatched recognition and trust. With this ethos in mind, we are thrilled to unveil our latest creation, 'POP NOW', designed to provide a delightful encounter with refined chocolate flavors. The gratifyingly crispy texture is achieved through the integration of two layers of crispy cereal. This innovation not only satiates hunger but also elevates uplift one's mood, whether amidst a busy schedule, engrossed in tasks, or enjoying a break. Each bite-sized piece is coated with shellac to prevent messy hands, making it an effortless pleasure to relish this snack."
Thai Lotte is delighted to introduce Norraphat 'Bright' Vilaiphan as the official brand presenter, adding a relatable human dimension into the brand. Bright's presence in everyday life perfectly aligns with how POP NOW seamlessly integrates into the lives of genuine individuals. His smart, down-to-earth, stylish, and multifaceted persona which encompasses attributes such as extraversion, intuitiveness, a strong sense of feeling, a delightful sense of humor, and classiness, makes him an ideal representative for the intended audience, particularly office professionals.
For the marketing campaign, the company has increased the marketing budget by 32% to welcome this new brand and support the comprehensive marketing strategy designed to boost sales in this chocolate category. Moreover, the company have plans to allocate an additional budget increasing by 11% for the next year, enabling it to firmly establish our presence in the market. This investment will be strategically employed to establish a strong presence across multiple platforms, with a primary emphasis on crafting immersive and unforgettable engagements. The marketing endeavor will commence with a captivating television advertisement, effectively capturing the joyous sensation of savoring POP NOW.
Additionally, the strategy includes extensive out-of-home advertising, strategically placed in high-traffic locations as well as the bustling area of the BTS Skytrain, and always-on contents throughout the year, ensuring that the exhilarating experience of indulging in POP NOW reaches a wider audience, creating a lasting impression of delight and satisfaction. This multi-faceted approach guarantees a memorable and impactful campaign that resonates with consumers. Through this campaign, LOTTE aims to forge a lasting connection with consumers, while effectively illustrating how POP NOW chocolate has the power to promptly uplift their moods and rejuvenate their day following the "Happy…Have POP NOW" concept.
For more information on POP NOW and Lotte, please visit www.lotte.co.th